vegetable tagine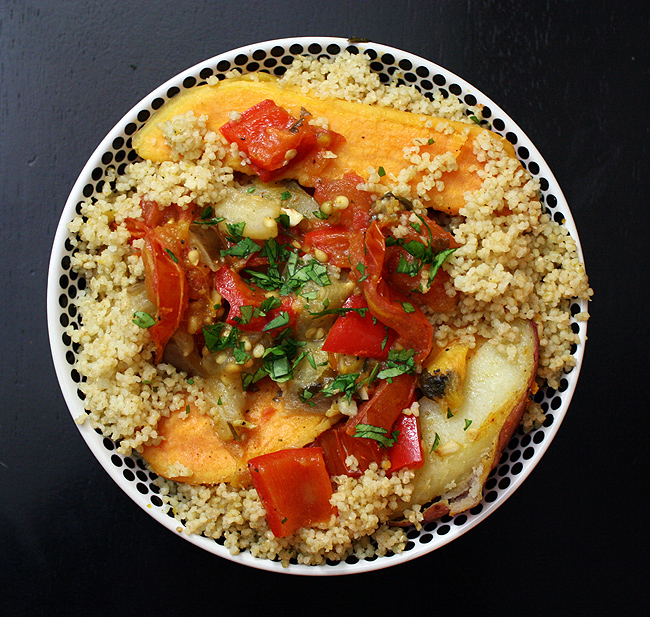 I am easily distracted.
I began this post about four hours ago. But…I realized that my camera was downstairs in the kitchen. I did, at least, end up in the kitchen where I made a smoothie with milk, frozen whey cubes–a byproduct of some paneer I made last night–and leftover coffee. I painstakingly dismantled the stack of dirty dishes we've accumulated over the last week or so. Then I spotted some bagels, so I threw one in the toaster and slathered it with some pumpkin cream cheese (8 ounces cream cheese, 1/2 a cup pumpkin, cinnamon, ginger, nutmeg, sugar to taste.) Sated, I made my way back upstairs to the computer, sans camera. Of course. Checked email, news. Finally retrieved camera. Uploaded and edited some pictures. Talked to my seester. Remembered that I wanted to get an antenna for the TV. Scoped out the TV for a model number so I could find out if it already has a built in antenna. Is it digital? Do I need a converter box? How expensive are antennas, anyway? Oh, and why are pistachios so expensive? How do you make preserved lemons? What can I do in Newport News, Virginia?
Those are the pressing questions I've asked the internets tonight. I'm glad I can so easily find answers to my queries, but I think it may come at the cost of my already-low attention span.
More relevantly, I also learned about tagines, couscousiers, and nightshades! Nightshades!! Sound scarier than they actually are, unless of course you have a nightshade allergy. With potatoes, tomatoes, eggplant, bell peppers, paprika, and cayenne, you could call this tagine Nightshade Stew. If you want to evoke, in the minds of your dinner companions, an image of yourself cackling over a steaming cauldron.
Yes, tagines. I'm getting closer to the point here, swear.
A tagine, or tajine, is a North African stew traditionally cooked in an earthenware pot called, well, a tajine. It has a low-sided, round base with a conical or domed lid, so that any condensation falls back into the dish. In Morocco, a tajine is a slow-simmered mixture of less expensive cuts of meat, along with any combination of fruits, vegetables, and spices. The Tunisian version is more like a frittata.
You serve the Moroccan version over couscous to soak up the delectable juices. I was lucky enough to acquire an authentic Tunisian couscousier earlier this year. Whenever I pull it out of the cupboard I think of the original owner, just for a moment, and wonder what he's up to half a world away. Particularly earlier this year.
I haven't yet learned how to use the couscousier for cooking couscous–the quick-cooking nature of vegetables vs. the long steaming of the couscous presents a problem–but it makes a fantastic steamer. Perfect for steaming the potatoes in this dish.
Ah, yes, I've finally made it to the point.
For this slightly spicy vegetarian tagine, you stir together a marinade of garlic, spices, olive oil, vinegar, and lemon juice. Steam or par-boil some potatoes. Chop up your veggies and herbs, then toss it all together and set in the fridge to marinate if you have the time. Roast it, make some couscous, eat. Simple, delicious, nightshady.
you might like:
a.k.a. ratatouille, sort of. An authentic ratatouille would contain zucchini (not a fan) and be sauteed (not as easy). Eli's mom always brings basketloads of tasty edibles when she comes for a visit. The visit before la ...

Hello all! I've missed you! I've been thinking about you! I've been meaning to pop in to say hello, but I've been completely and utterly distracted. My crazy self accepted the title of 'pastry chef' at the bakery. Mostly I' ...
Vegetable Tagine (based off Spicy Potato, Tomato, and Pepper Tagine from Vegetarian Cooking for Everyone)
serves about 4
4 cloves garlic, finely minced
2 teaspoon paprika
1 teaspoon ground cumin
1/4 teaspoon cayenne
salt
1/2 cup cilantro, finely chopped
(1/2 cup parsley, finely chopped, optional)
juice of one lemon
3 tablespoons apple cider vinegar
3 tablespoons olive oil
2 small sweet potatoes, peeled and cut in half length-wise, then into quarters
2 red potatoes, unpeeled and cut the same as sweet potatoes
1 small eggplant, unpeeled and cut into 1/2-inch cubes (about 2 cups)
1 large bell pepper, cut into 1-inch pieces
2 tomatoes, cut into eighths
Stir together garlic, paprika, cumin, cayenne, a large pinch of salt, cilantro and parsley if using, lemon juice, vinegar, and olive oil.
Steam or parboil potatoes until just barely tender, about 10 minutes.
Put the potatoes in a large baking dish along with the rest of the vegetables. Pour the marinade over and toss until the veggies are evenly coated. Cover and set in the refrigerator to marinate for a couple of hours if you have time, or put directly in the oven.
Bake, covered, for about 35 minutes at 375. Remove lid and bake for another 10-15 minutes, until the vegetables are completely tender. Serve with couscous.
6 responses to "vegetable tagine"