ratatouille
a.k.a. ratatouille, sort of. An authentic ratatouille would contain zucchini (not a fan) and be sauteed (not as easy).
Eli's mom always brings basketloads of tasty edibles when she comes for a visit. The visit before last, she brought these gorgeous tomatoes and that incredibly jewel-toned eggplant from the Spartanburg farmer's market. I'm pretty sure it was a hint to make this. But we never got around to it, and these beauties sat forlornly on the counter for a couple of days after her departure. One afternoon I woke up feeling frisky and went into the kitchen completely unarmed with any sort of research or recipe; into the cast iron pot those tomatoes and eggplant went, along with a bell pepper, a haphazardly chopped onion, a few hacked cloves of garlic, pinches of spices, and a couple glugs of olive oil. Then into a searing oven went that cast iron pot, resulting in some beautifully roasted vegetables with enough succulent juices to coat a bowl of pasta cloaked in parmesan. It was sooo good.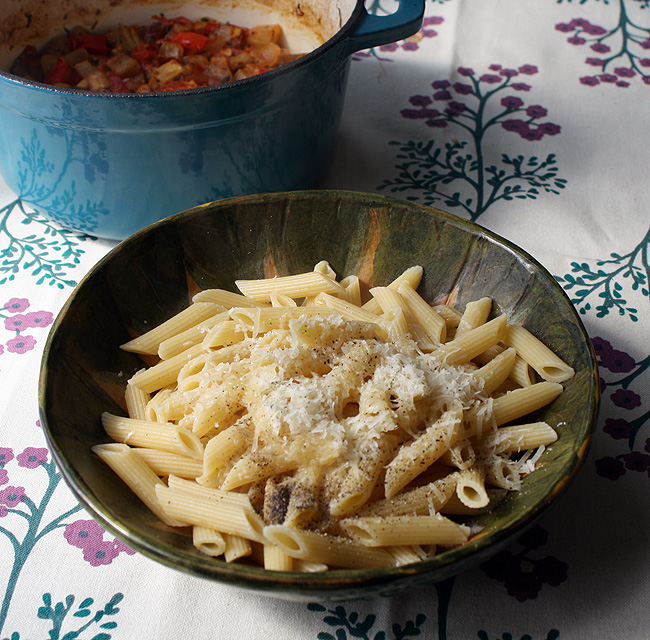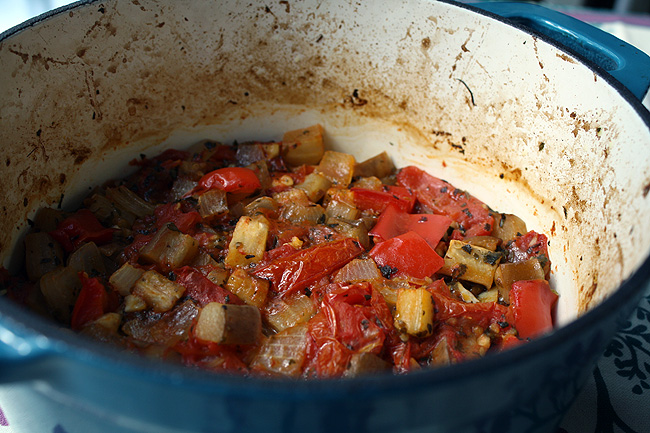 you might like:
I am easily distracted. I began this post about four hours ago. But...I realized that my camera was downstairs in the kitchen. I did, at least, end up in the kitchen where I made a smoothie with milk, frozen whey cubes- ...

Hello all! I've missed you! I've been thinking about you! I've been meaning to pop in to say hello, but I've been completely and utterly distracted. My crazy self accepted the title of 'pastry chef' at the bakery. Mostly I' ...
Ratatouille
1 eggplant, cubed into 1″ pieces
2 tomatoes, cut into eighths
3-4 cloves garlic, chopped
1 red bell pepper, chopped
1 onion, chopped
olive oil
dry oregano, dry basil, salt and pepper, to taste
Preheat oven to 375.
Toss vegetables, a few splashes of olive oil, and spices in a cast iron pot or any sort of roasting pan until well-combined. Cover and bake until veggies are tender and juices are bubbling, about 45 minutes to an hour, depending on your oven. If you want to caramelize them a bit and reduce the juices, uncover for the last 15 minutes of baking.
5 responses to "ratatouille"