spicy mac and cheese
There are some crazy things happening with the colors in this photo that I can't even begin to address: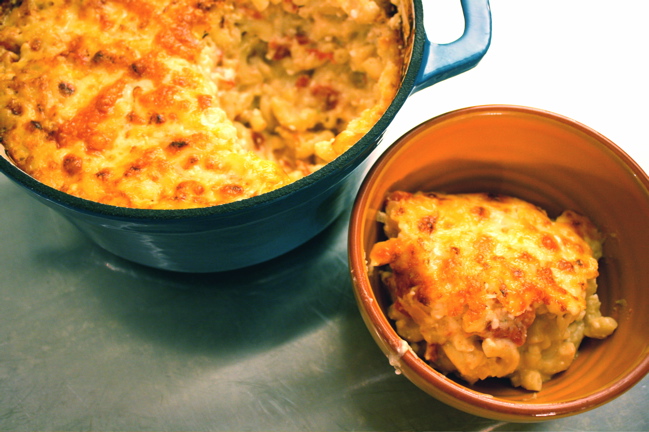 But I needed it to show you a couple of things.  Like…crackly, cheesy crust. Creamy interior flecked with bits of tomatoes and peppers.
Here's another one:
Oh my.  That's not helping, is it?
What if I promise you that that big ol' pot o' goo transforms into a magical, creamy, spicy, ever-so-addictive-though-you-can't-quite-put-into-words-why pot of deliciousness given a half hour in a hot oven?  Trust me, it's one of my favorite foods.
Pasta and cheese will rarely do you wrong.
you might like:
I'm tiptoeing my way into the realm of recipe development and finding it, at times, to be somewhat difficult and frustrating. Tonight I thought I had solved the recipe for vegan banana oat cookies, but no. Not quite. So cl ...

Spring has sprung, and that means a couple of things. Strawberries. Rhubarb. Feeling like a creep because you're crouched in the azalea bushes with a camera when the FedEx guy pulls into the driveway. ...
Spicy Mac and Cheese (adapted from Chipotle Macaroni and Cheese via Cooking Light)
yields 6 one cup servings
1 tablespoon butter
2 tablespoons all purpose flour
1/2 cup finely minced onion
1/2 cup finely chopped green bell pepper
1 clove garlic, minced
1 (14.5 ounce) can diced tomatoes and green chiles, undrained
2 cups (8 ounces) shredded sharp cheddar
1 cup cottage cheese
1 cup milk
1/4 cup (1 ounce) parmesan cheese, grated
1 large egg, lightly beaten
4 cups hot cooked elbow macaroni (about 2 cups uncooked)
Bring water to a boil for macaroni and preheat oven to 350. Cook macaroni for about 8 minutes, then drain and set aside.
Meanwhile…if you have a 2 quart pan that can go from stove to oven, put it over medium-high heat. If not, have a 2 quart baking dish sprayed with no-stick ready to go. Add butter to the pan, then onion, bell pepper, and garlic; cook about 5 minutes or until onion is softened, stirring frequently. Sprinkle in flour and cook 30 seconds, stirring constantly. Reduce heat to medium and add tomatoes/chiles. Cook for a few minutes until thickened, stirring often. Add cooked pasta, most of the cheddar, cottage cheese, milk, parmesan, and egg, stirring to combine thoroughly.
Top with remaining cheddar (herbed breadcrumbs are a good alternative) and bake for about 30 minutes, until bubbly. Let sit at room temp for about 15 minutes before digging in.