savory tart
I was thisclose to grabbing the t-rex cookie cutter. Didn't want to freak anyone out, though. I think I made the right decision.
This is a beloved savory tart from the good old days of the (now defunct) wholesale bakery. Stuffed with spinach, white beans, roasted tomatoes, onions, and garlic, it's held together with a couple of eggs, a little cream, and a sprinkling of cheese. The original version had a delightful cornmeal crust, but I had to move on to another recipe because it was uncontrollably sticky. And rage-inducing. Okay, not really rage. But close enough. I went for an olive oil pie crust instead, a friendly crust that rolled right out and lifted straight off the silpat. I'm prepared for a fight when working with pie dough, so I wasn't really sure what to do with myself. I felt like I'd gotten off too easy. Like the dough was lulling me into a false sense of security. Like maybe it would explode in the oven or something.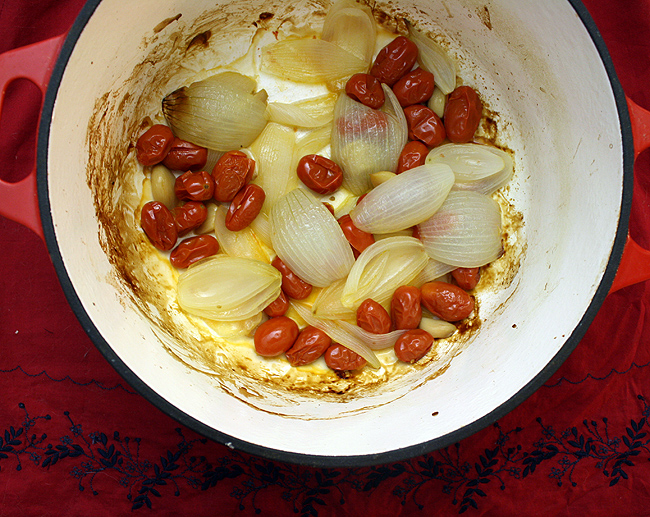 This tart doesn't mind being frozen, not one bit. I can vouch for it. This is kind of sad, but everyone at work got really excited when a half-sheet pan of savory tart was discovered lurking in the recesses of the walk-in freezer. How long had the poor tart been in there? I don't want to know. But it was still delicious. If you want to store it in the freezer, just cool the tomato/onion/garlic mixture first. Put the pan with the bottom crust in the freezer for a little bit before filling. Wrap well. No problem.
The recipe is a little involved and takes a bit of time, but I think it's worth the effort.
you might like:
This was supposed to be the sixth and final post in a series of frozen desserts, but the pictures of mint ice cream I took last year are hurting my eyeballs. Fresh mint ice cream is awesome. There's a recipe here. You know ...

I have two more frozen treats for you, but I feel like I need to throw in a savory recipe to balance things out here. Sugar rush resumes tomorrow! Wheeeee! These potstickers could be an appetizer, but Eli and I love ...
Savory Tart
1 pint cherry tomatoes
2 medium white or yellow onions, peeled and quartered
4 cloves garlic, peeled and left whole
1 (15 ounce) can of white beans, rinsed and drained
a couple large handfuls of baby spinach
2 1/2 cups all purpose flour
a pinch of sugar
1 teaspoon kosher salt
2/3 cup buttermilk
1/2 a cup mild olive oil
3 eggs
1/4 cup half and half
1 teaspoon rosemary, finely chopped
1/2 a teaspoon kosher salt
1/2 a teaspoon pepper
1/4 cup dry breadcrumbs
4 ounces shredded cheese (I can vouch for asiago and white cheddar)
Preheat oven to 375. Place cherry tomatoes, onions, and garlic in a baking dish and toss with a bit of olive oil. [A cast iron pot works really well here.] Cover and roast for about 45 minutes, until tomatoes are wilted and onions and garlic are very soft. Let cool. Crush garlic cloves and stir in can of white beans and a couple handfuls of spinach.
For the crust: whisk together flour, sugar, and salt. Make a well in the center and add buttermilk and olive oil. Stir together until well-combined. Cover and let rest at room temperature for at least 15 minutes.
Divide dough into two pieces. Roll one out to a circle large enough to fit the bottom and sides of a 9″ tart pan, leaving a little overhang. Spread a 1/4 cup of breadcrumbs over the crust. Fill with roasted veg/bean/spinach mixture. Whisk together eggs, cream, rosemary, salt, and pepper; pour over tart. Top with cheese, then roll out the remaining crust and fit over the top. Pinch together overhanging dough and roll back in to fit inside the tart pan; flute if desired. Slit a couple of steam holes in the top of the crust.
Bake at 350 for 45-60 minutes, until crust is deep golden brown and the filling is bubbling all the way through. If you're baking it from frozen it may take around and hour and a half.
12 responses to "savory tart"