the wedding (and the cakes)
Greetings! I come bearing wedding details (as promised), though I'm running a little late (probably as expected).
We got hitched at the beautiful Lake Rabun Hotel in the Georgia mountains on December 1. Some photos from a reconnaissance mission last summer: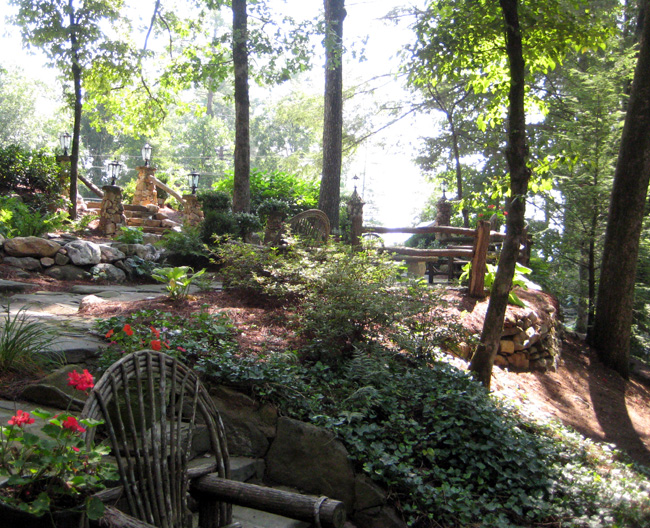 We made a weekend of it, arriving the evening before to check into the cottage that sits at the bottom of a short pathway leading from the hotel. Most of our close family stayed in the 8-room hotel itself, and after everyone arrived and checked in we made our way down the hill and across the street to Louie's on the Lake, a pizza place Eli and his family have been frequenting (as well as the hotel) since he was a kid. More extended family and friends who were in the area that night joined us, so Louie and his very patient staff kept adding tables until we had one long l-shaped table that filled up about half the restaurant. It was a great evening, cozy and a little romantic with a roaring fire and views over the lake, yet fun and raucous, surrounded by lots of family we hadn't seen in years. And of course, we all enjoyed the delicious, wood-fired pizza made by Louie himself, a former New Yorker.
Somehow it ended up being in the mid-sixties the next day, so we got to have the ceremony outside on the steps next to the koi pond, with our friend Anna Belle's handmade flags (the perfect wedding gift) rustling gently between two trees behind us. Eli's dad graciously agreed to perform the ceremony we had written, which was perfect. He even delivered the line about shiny objects (sorry, Ande!) :D
We only wish that we had planned what to do after the ceremony was over. We stood in front of everyone for a split second like deer in headlights, then dove into the crowd gathered below us for hugs. It was nice, but I'm pretty sure some people were tired of hugging us by the end of the day. Also, sorry if we missed anyone in the chaos!
The music. We could have done better on the music. Eli had his i-phone in a pocket to start and stop the playlist wirelessly, but we quickly found that the wireless zone stopped (along with the music) about 10 feet outside the door. Whoops! When will we ever get another chance to have a recessional to "Throne Room" from Star Wars?! I also wish I hadn't procrastinated on the playlist, so I could've enjoyed lunch before the wedding rather than frantically fiddling with my phone (putting the songs in the right order) the whole time. Oh, well.
The hotel's talented chef, Jamie, along with his kitchen staff, catered most of the food for the reception, along with two very delicious, very generous breakfasts for each hotel guest that weekend.
We were very happy with the heavy hors douvres style reception, which allowed us to keep things casual as well as have a good selection for both vegetarians and non. All of our guests seemed to enjoy it as well. Everyone could eat as much as they wanted, and sit where they pleased, whether it be at one of the two long tables in the main dining room, outside on the (covered & heated) deck next to the dance floor, or in the parlor by the fireplace.  The food was pretty much devoured, with the beef tenderloin canapes winning the disappearing contest, and the cucumber rounds losing by far.
My sister brought most of the mini cupcakes from a bakery in Durham called Daisycakes. Two of her friends (a husband and wife team) started a mobile bakery a few years ago, baking cupcakes and breakfast pastries in their certified home kitchen, then loading up their vintage airstream trailer and heading downtown to sell their goodies every Saturday morning. They eventually got a kickstarter project funded so they could expand into a brick-and-mortar store. My heroes!
Anyway…I made the pumpkin spice cupcakes (a week or two ahead of time and froze them), the mini cheesecake cupcakes, as well as a devil's food cake for Eli and I to cut. The cutting cake was displayed on a tree stump pedestal that my dad made, and that Eli carved a heart and our initials into. I guess that was our little secret, since we accidentally put the pedestal backwards. The cupcake stand was built by my dad's neighbor, a woodworking enthusiast.
shortbread cheesecake crust recipe  (baked until light golden brown in mini cupcake papers before adding cheesecake batter)
My sister helped me frost the mini pumpkin cupcakes with a simple cream cheese icing the day before we trucked it up to the mountains. All while my new mother-in-law finished stringing the final of 1,000 cranes (hero!), my brother-in-law strung the plasti-dipped crane ornament favors, and Eli finished downloading and adding songs to the playlist. Weddings are madness, even when you try to keep it simple :)
True story, I punched my wedding cake. Accidentally. While I was trying to reinforce the box it was in. It was an easy fix, and I don't think anyone minded a bit, judging by the speed with which it was devoured. It was a devil's food cake with cream cheese icing. So moist, so soft, so luscious. I'll remember it lovingly for all of time.
We weren't so sure about doing the cake-cutting-and-feeding-eachother thing since neither of us likes to be the center of attention, but it turned out to be enjoyable.  Even when we had to do it again since some (most) people missed it. We noticed a few guests circling the dessert table and it was the perfect way to let everyone know they could dive in. In retrospect, being the first on the scene is probably the only reason we got a piece of that cake.
The flourless truffle stars and vegan cookies were from the bakery I work at. The one where I put in my notice, then got a promotion with paid vacation and daytime hours. Wha?! More later?
And a few words on the bar…we paid for the beer and wine (and my sister brought the eggnog from a local creamery), so the hotel asked us to provide the numbers we wanted. So someone else might find this information helpful? We had about 60 guests. I think we had 30 bottles of wine, 1/3 red and 2/3 white. I'm thinking either we should have gone half and half (since reds are usually more popular in winter) or asked the hotel for something other than chardonnay–sauvignon blanc, perhaps? I'm not a big fan of chardonnay, so I'm a little sad to have almost a full case leftover. Anyone want some? The red was polished off, though. Then we had about 60 beers, with about a dozen leftover. On that front, we wish we'd added one more, more mainstream selection. There was also about a gallon of eggnog that was almost emptied. We hadn't realized the hotel bar would have a full selection of liquors and cocktails, which a few people took advantage of cash-bar-style, possibly lightening the burden on the beer/wine/eggnog.
After the reception officially ended around 9, the night-owls traipsed over to the cottage next door to continue the festivities. Behind the cottage and up a few stone steps, a bonfire roared in the firepit, surrounded by built-in wooden benches occupied by smore-makers. Inside there were leftover snacks and desserts sent over from the hotel kitchen, favorite libations provided by my (very helpful) sister (La Ardilla Moscato, anyone?), a crock pot full of steamy, spicy apple cider, and a surprisingly large crowd gathered for karaoke.
Everyone has asked how married life is, and to be honest it's pretty much exactly like it was before. It's just what we expected, and our wedding turned out to be exactly what we'd always talked about doing when we became "financially stable." We are so grateful that we were able to have a simple, somewhat small celebration with family and friends, even if it did go by way too fast.
2 responses to "the wedding (and the cakes)"