rice noodle salad with scallions and herbs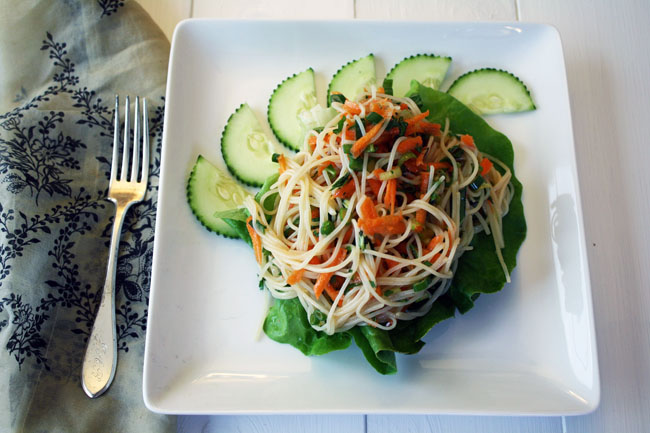 I'm posting this recipe for a couple of reasons: One, the weather channel is telling me it feels like 106 out there, and I'm going to take their word on that one. This recipe requires barely any cooking. Two, I feel an inexplicable need to prove I'm not a total sugar-monster.
Also? It's tasty. I guess that goes without saying; here and now I solemnly vow to never share any non-tasty recipes.
you might like:
I'll keep it short. If I knew when I was going to die and my last meal, for some sick, inexplicable reason had to be a salad, this would be it.

My self-imposed deadline for posting Tofu Summer Rolls passed this morning at 5:05 am, so, instead, I present to you: Coconut Rice Pudding! It'll comfort you on a chilly autumn evening, delight you when spooned direc ...
Rice Noodles with Scallions and Herbs (adapted from Martha Stewart)
8 ounces rice vermicelli
1 tablespoon vegetable oil
1/4 cup water
1/4 cup reduced-sodium soy sauce
2 tablespoons fresh lime juice
1 tablespoon rice vinegar
1 tablespoon brown sugar
finely minced fresh red chile, to taste (I used about 1/2 a teaspoon Thai chile)
1 clove garlic, finely minced
4 scallions, thinly sliced
2 carrots, grated or julienned
a couple of fresh mint leaves and 1/4 cup basil, finely chopped
lettuce and cucumber slices to serve
Put noodles in a heatproof bowl and cover with enough water to submerge them. Let sit until tender, about 30 minutes. Drain and rinse with cold water, then toss with 1 tablespoon oil.
Combine water, soy sauce, lime juice, rice vinegar, brown sugar, chile, and garlic; stir until brown sugar is dissolved.
Toss noodles with sauce, scallions, carrots, and herbs. Refrigerate until chilled and the noodles have soaked up most of the moisture. Serve over lettuce.