new york bagels
Happy Sunday! Have a bagel!
Why in the world should you ever make your own bagels? Well, have you ever plucked, sliced, smeared, and devoured a warm, crackly-crusted bagel from a fresh batch…one that's never spent hours trapped in a bakery case or been mistreated by being subjected to a refrigerator, freezer, or stuffy bag?
I seriously recommend it.
These are authentic, New York-style bagels. They are malty, crusty, and chewy, and definitely unsuitable for the weak-jawed.
This is their story, from the very beginning to just before their untimely, cream-cheese-y demise in someone's powerful maw.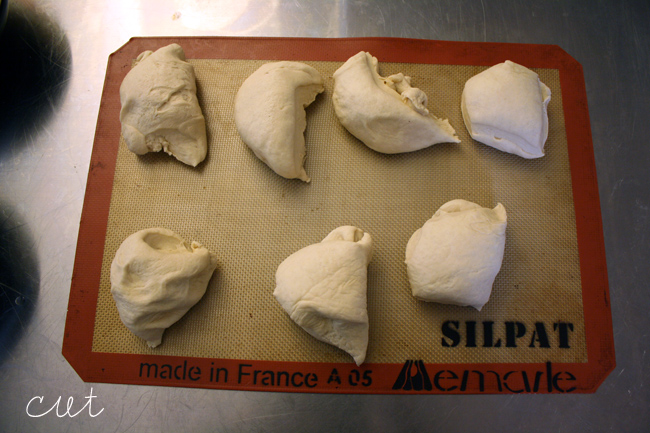 you might like:
Ahhh. Hello, Cinnamon Rolls. I remember the morning I made you as if it were yesterday. The year was 2010. The month was April. The time was a hair before the buttcrack of dawn on a dark, beautiful Saturday morning. I slipp ...

I bake bread almost every night. Last night I made, deep breath, seven loaves of mixed grain, five cinnamon raisin swirl, eight white, ten whole wheat, six cranberry pecan, five jalapeno cheddar and four garlic herb par ...
Bagels (from Professional Baking)
makes about a half dozen 4-ounce bagels
8 ounces (250 grams) water
0.5 oz (15 grams) fresh cake yeast (0.2 ounces instant or bread machine yeast–6 grams)
1 pound high-gluten flour (500 grams) (I can also vouch for King Arthur all-purpose flour)
1 ounce (30 grams) malt syrup
0.25 ounces salt (8 grams)
0.13 ounces (4 grams) oil
malt syrup for boiling
toppings
1/4 cup white sugar
1/4 cup brown sugar
2 tablespoons cinnamon
melted butter
1 part kosher salt
+
2 parts each: sesame, poppy, dry minced onion, dry minced garlic
Mix all ingredients in a mixer fitted with dough hook for 8 minutes on low speed. Lightly oil a bowl and let dough rise in it, covered, for an hour (assuming an 80 degree room.)
Cut into 4-ounce pieces. Shape into tight balls and pinch bottom seam closed, then let rest, covered, for 15-30 minutes, until soft and easy to stretch. Poke holes in the centers, then stretch, stopping to let them rest for a few minutes if the dough is resisting. Once the holes are stretched to a good size, cover and let proof for 15-30 minutes.
Meanwhile, get their bath ready. Bring a large pot of water to a boil. Add 1/4 cup malt syrup per gallon of water. Preheat oven to 425.
Boil bagels for about a minute per side. Pull from water with a large spider, and gently shake off excess liquid. If you have a perforated pan, use it so you don't have to flip the bagels over halfway through baking. You don't need parchment, just spray lightly.
Dip tops into everything mix just after boiling, then spray with water to soak the mix a little, so it doesn't brown too quickly. To make cinnamon sugar bagels: boil, then let sit on pan for a moment to dry out a bit. Dip tops into melted butter, then into cinnamon sugar.
Bake for about 12 minutes, or until golden brown.
24 responses to "new york bagels"