chocolate granola
It's almost Valentine's Day, which means we need a series on chocolate.
It's a Monday, in the dead of winter. So…we need a series on chocolate.
It's a day that ends in -day. Need chocolate.
We'll start out innocently enough, with a recipe for chocolate granola. By the end, my face will be smeared with chocolate and I'll be mumbling something about molten chocolate cakelets.
Sound good?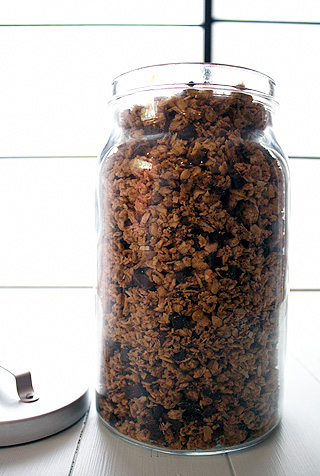 About that granola…
This is a favorite soaked granola recipe. Soaking the oats supposedly makes the little grains easier to digest and ultimately gives you a granola with a crumbly, almost cookie-like bite. If you toss the chocolate into the granola just in time–as it's almost completely cool–you'll end up with some pieces that have just a swipe of melted chocolate on them. Bonus pieces.
you might like:
You didn't think that the chocolate posts would end on Valentine's Day, did you? Okay, that was the plan. Plans. Ha! You may want to make these decadent little treats only once a year, but who says it has to be on V- ...

This cupcake was my creation for a certain contest that required the utilization of chocolate plus one or more of ingredients off a large list that included things like beets and bee pollen and adzuki beans. I played it sa ...
Chocolate Granola (adapted from here)
4 cups old-fashioned rolled oats
1/4 cup vegetable oil
1/4 cup (4 tablespoons) butter, melted
3/4 cup buttermilk
about 3/4 cup water (enough to moisten mixture for soaking)
1/4 cup honey
1/4 cup maple syrup
1/2 teaspoon coarse salt
2 teaspoons cinnamon
2 teaspoons vanilla extract
1/2 cup shredded coconut
1 cup dark chocolate, chopped
Mix oats with oil, butter, buttermilk, and water. Refrigerate overnight.
Preheat oven to 200.
Stir together honey, maple syrup, salt, cinnamon, and vanilla. You may need to warm the mixture slightly in the microwave. Stir, along with coconut, into soaked oat mixture until thoroughly combined.
Spread mixture evenly over a large, parchment-lined baking sheet. Bake, tossing and stirring occasionally, 2-4 hours, depending on your oven, until mixture is dry and crisp. It will crisp up a little more as it cools. Once cool, break the mixture into smaller pieces, stir in chocolate, and store in an air-tight container.
*gluten-free, depending on your brand of oats