black bean chili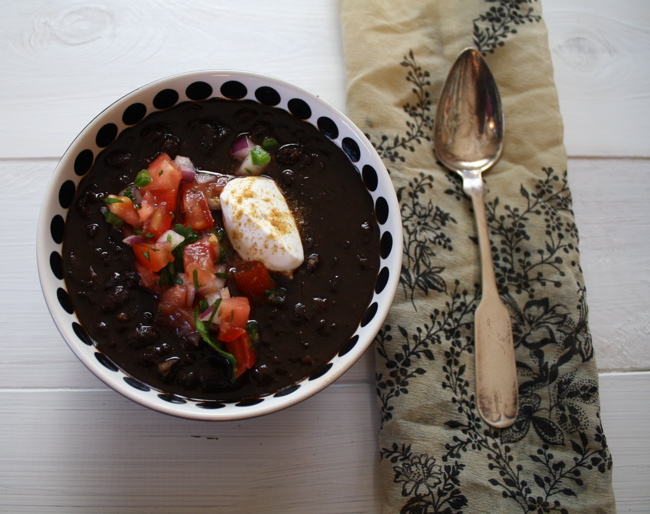 I'd intended to post this soup as a nice recipe to bridge the gap between the chill of early spring and the hell that most people refer to as Summer.
A warm, hearty chili complemented by a chilly, refreshing pico de gallo.
But then I went and checked the forecast. It's going to be 90 today.
Maybe you'll enjoy this chili.
I'll be horizontal on the cool, hardwood floor writhing in misery.
Goodbye forever!
Love, Jennifer
you might like:
Soup, to me, is something to be thrown together from odds and ends lurking in the fridge and pantry. Which might be why I see a look of terror in Eli's eyes whenever I tell him soup's on. It's never terrible, no, but it tends ...

I can be such a slacker. Last week, I had to move into the guest room because a pile of laundry (clean, I swear!) had taken over the bed. I subsisted on packages of Trader Joe's chile and cheese tamales enrobed in a packets ...
Black Bean Chili with Pico de Gallo (adapted from Bon Appetit)
about 6 servings
1 tablespoon olive oil
3 small white or yellow onions (about a pound total), chopped
8 cloves garlic, minced
1/4 cup New Mexico chili powder
1 tablespoon cumin
5-8 cups water
1 pound dried black beans, rinsed
2 teaspoons dried oregano
1 teaspoon minced canned chipotle chiles in adobo, optional
Heat oil in a large pot over medium heat. Add onions and garlic; cook until onions are soft, stirring often, about 10 minutes. Add chili powder and cumin; stir one minute. Add 5 cups water, black beans and oregano. Bring mixture to a boil, reduce heat to medium-low, cover with lid slightly ajar, and simmer until beans are tender, about 2 hours. Stir occasionally and check water level, adding more if needed.
Add chipotle, if using, and season with salt to taste. Simmer about 30 minutes longer, stirring frequently and mashing with a potato masher to desired consistency, adding more water if it's too thick.
Pico de Gallo
3/4 pound tomatoes, seeded and chopped
1/2 cup chopped onion
1/4 cup chopped cilantro
juice of half a lime
1 jalapeno, seeded and finely minced
pinch of salt
Combine all ingredients. Refrigerate.
2 responses to "black bean chili"