walnut brownies with browned butter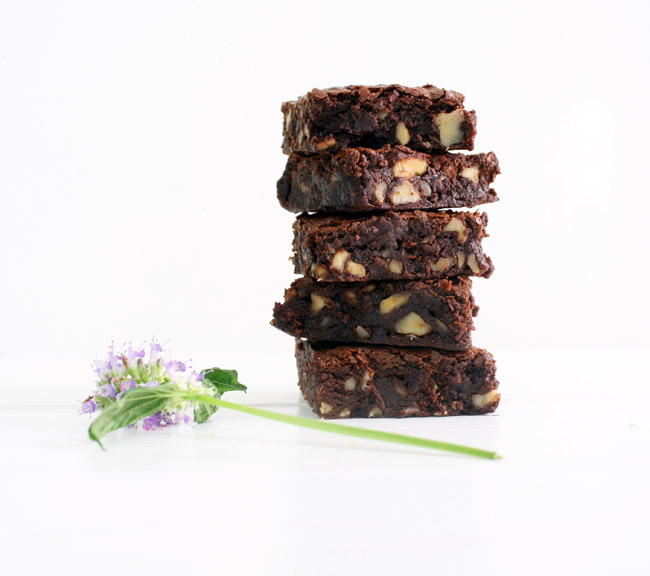 We headed up to South Carolina for the weekend to help Eli's mom sort through some memorabilia. Rather, Eli went to help sort through some stuff; I went along to prevent a certain 25-pound fuzzmonster from defiling the house.
I took some brownies. Brownies convey messages like: "I'm almost completely useless for manual labor, but hey! look! brownies!" and "Congrats on the sale of your house after four heart-wrenching years on the market!" and "I'm so, so sorry that moving sucks in such a major way."
Just a few miles into our journey back home, on the interstate of all places, the gas pedal became unresponsive. A couple of brownies had survived the weekend and were waiting for us back at the house. "Eat me," they whispered. I did, and they made me feel a little better. But it was be the dominoes and bubbly and good company that made me almost glad a faulty fuel pump had bought us another night in this wonderful place.
you might like:
May I introduce you to one of my favorite sweets/ice creams/things to eat, period? Yep, that's burnt sugar. Like, cooked to the point where it starts smoking, and if you don't do something about it within seconds, you'r ...

Hello all! One reason I've been putting off this post is because I knew that I just couldn't let it pass without acknowledging the loss of my constant kitchen companion, Lucy. She taught me a lot about the kitchen, a ...
Walnut Brownies with Browned Butter (from Bon Appetit)
10 tablespoons butter, unsalted
1 1/4 cups sugar
3/4 cup natural unsweetened cocoa powder
2 teaspoons water
1 teaspoon vanilla extract
1/4 teaspoon salt
2 large eggs, chilled
1/3 cup plus 1 tablespoon flour
1 cup walnuts, chopped
Preheat oven to 325. Line 8x8x2 square metal pan with foil, pressing firmly against pan sides and leaving a 2″ overhang. Spray with no-stick.
Melt butter in a saucepan over medium heat. Cook until butter stops foaming and browned bits form at the bottom of the pan, stirring often, about 5 minutes. Remove from heat and immediately add sugar, cocoa, 2 teaspoons water, vanilla, and a generous 1/4 teaspoon salt. Stir to blend; let cool 5 minutes. Add eggs to hot mixture 1 at a time, beating vigorously after each addition. When mixture is thick and shiny, add flour and stir 60 strokes. Stir in nuts. Transfer batter to pan.
Bake until toothpick comes out with a few moist crumbs attached, about 25 minutes. Cool in pan on rack. Lift brownies from pan and cut into 16 pieces.
2 responses to "walnut brownies with browned butter"