vegan morning glory muffins
I made this particular recipe for a particular bakery owner who shall not be named. He wanted to market them as "Vegan Schmegan" muffins, but ran the business into the ground and fled town before he could unleash that level of cheese on our fair city. Phew.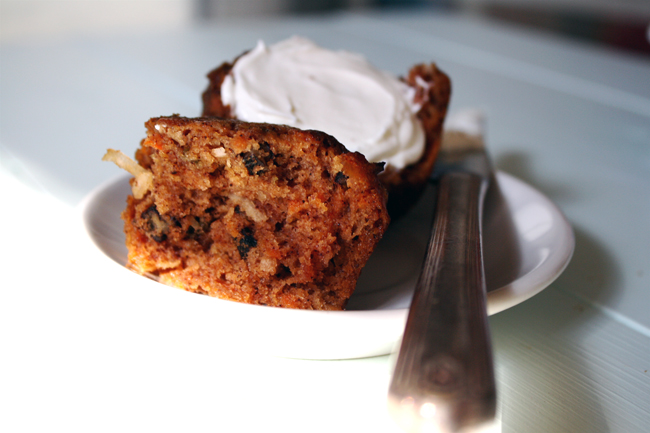 These muffins are moist and soft and chock full of goodies and loveliness. They're definitely not bran-and-molasses bombs. I'm looking at you, Lovely Bakery That I Work At.
*awkward silence*
you might like:
My self-imposed deadline for posting Tofu Summer Rolls passed this morning at 5:05 am, so, instead, I present to you: Coconut Rice Pudding! It'll comfort you on a chilly autumn evening, delight you when spooned direc ...

I need to add an Aggression category. There's a recipe in Eli's great-aunt's cookbook for Aggression Cookies that I've mentally bookmarked. The opportunity to try them hasn't yet arisen, though. Mixing 3 cups of brown sugar, 3 ...
Morning Glory Muffins (adapted from the King Arthur Flour Baker's Companion)
(also tasty with 1/2 the oil replaced with applesauce)
1/2 a cup (3 ounces) dried cranberries, rehydrated in hot water and drained
2 cups (8 1/2 ounces) all-purpose flour
1 cup (7 ounces) sugar
2 teaspoons baking soda
2 teaspoons cinnamon
1 teaspoon ground ginger
1/2 a teaspoon salt
2 cups (7 ounces) peeled and grated carrots
1 large tart apple (6-7 ounces), grated
1/2 a cup (1 1/2 ounces) sweetened shredded coconut
1/2 a cup (2 ounces) sliced almonds
1/3 a cup (1 1/2 ounces) wheat germ
4 1/2 teaspoons ener-g egg replacer whisked with 6 tablespoons water (or 3 eggs)
2/3 a cup vegetable oil
2 teaspoons vanilla extract
Preheat oven to 375 and lightly grease 12 large (large meaning you're using a 6-7 ounce scoop of batter) muffin cups.
In a large bowl, whisk together flour, sugar, baking soda, spices, and salt. Add carrots, apple, coconut, nuts, and wheat germ. In a separate bowl, whisk eggs or egg replacer/water, oil, and vanilla together. Add to flour mixture and stir until evenly combined. Stir cranberries into batter.
Divide batter among cups and bake 20-25 minutes, until deep golden brown and a toothpick comes out clean. Let cool in pans for 5 minutes, then transfer to a rack to finish cooling.
9 responses to "vegan morning glory muffins"