strawberry shortcakes
It was a beautiful afternoon for a country drive out to Washington Farms to pick strawberries. As I was walking down the dusty road from my car to their open-air white picket stand I could smell strawberries in the breeze. I knew then they would be good, and they were; luscious, warm and sun-kissed, deep red to their core, bursting with flavor. Absolutely worth the drive and the red stained hands I acquired on the way home.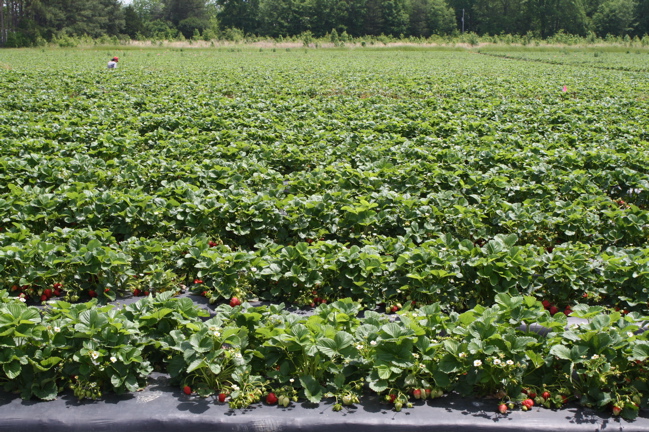 That gallon of strawberries got plenty of use–coconut mango cake, strawberry lemonade–coming soon! But my favorite is a summer treat that is now permanently etched into my mind; its picture taunts me as I cruise through my website editing and adding recipes. I created about 30 posts as the website was "under construction," intending to go back and add the recipes and teasers later. Do not recommend. Took forever. Aghhhh! This is the last post I have to edit, so today, the 28th day of June, 2011, this blog is ready to go live!
And this, this is the picture that taunts me: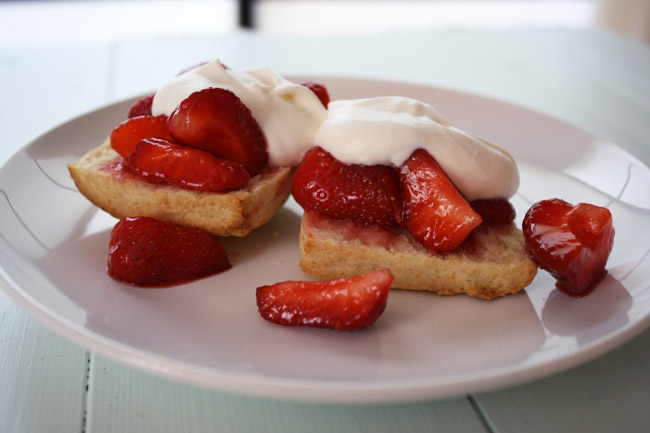 you might like:
Spring has sprung, and that means a couple of things. Strawberries. Rhubarb. Feeling like a creep because you're crouched in the azalea bushes with a camera when the FedEx guy pulls into the driveway. ...

Though the window air conditioning unit we recently purchased has most likely saved our lives, we're still not quite immune to the evil temperatures lurking just outside our door. And this is where frozen treats swoop i ...
Cream Biscuits (from orangette)
makes about 6
1 cup all purpose flour
1/2 teaspoon salt
1 1/2 teaspoons baking powder
1 teaspoon sugar
1/2 cup to 3/4 cup heavy cream
2 tablespoons unsalted butter, melted, optional
Preheat oven to 425. Use an ungreased baking sheet, or line it with parchment for easy cleanup.
Combine flour, salt, baking powder, and sugar; stir with a fork to blend. Slowly add 1/2 a cup of cream, stirring. Gently gather together the dough; if it holds together and feels tender, begin kneading. If it's too dry, slowly add as much of the remaining 1/4 cup of cream as it needs to hold together.
Place dough on a lightly floured surface and knead for about a minute, without overworking it. Pat into a square about a 1/2 inch thick. Cut into 6 squares. Brush each biscuit with melted butter so all sides are coated. [Butter-phobe that I can be, I skipped this step and the biscuits were still delicious.] Place biscuits 2 inches apart on baking sheet.
Bake about 15 minutes, until lightly browned. Serve hot.
To assemble: while the biscuits are baking, cut desired amount of strawberries into quarters and toss with granulated sugar, to taste. I used about 2 tablespoons of sugar for 2 cups of berries. Let macerate until ready to serve. Whip fresh cream just before serving.
2 responses to "strawberry shortcakes"