spicy basil noodles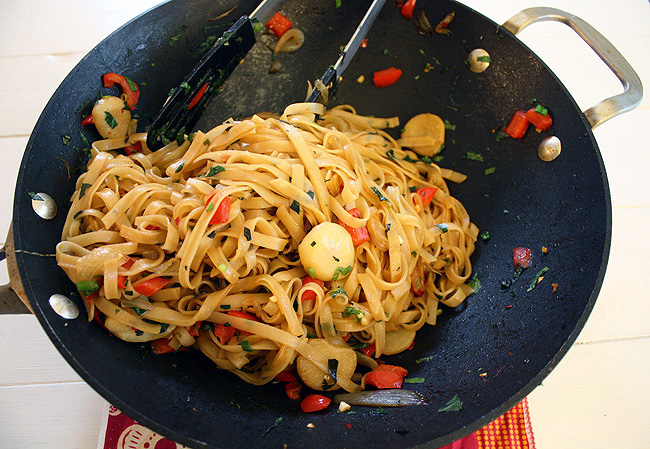 I guess I'm one of the lucky ones whose first experience with tofu was really, really good. I was working late at the bakery when my fellow baker-in-shining-armor suddenly appeared. He presented me with a white styrofoam take-out box that was groaning under the weight of at least two pounds of sesame tofu from what I came to know as one of my favorite restaurants. I eyed the box suspiciously, he said 'just try it', I did. And I was hooked. Subsequent, frequent visits to the restaurant itself found me diving headfirst into the world of tofu: crispy basil tofu–a half block of tofu coated in a thin layer of perfectly crispy fried batter with a sweet-spicy-sour-basily sauce; an amazing tofu tom yum soup, bright with lemongrass; more of the aforementioned sesame tofu than I care to admit. And a favorite non-tofu dish called spicy basil noodles.
One tragic day, the restaurant closed. Rumor has it the owner moved back home to Asia–Japan, I think–to be near her daughter. And that's great and all, I'm happy for her, but every time I drive by the abandoned building I can't help but shake my fist to the sky and proclaim "why, god, why?!" and "SPICY BASIL TOFU!" I almost wish they'd tear down the building so I could forget.
There came a day, years later, when I felt gutsy enough to try and re-create the basil noodles at home. A little research revealed that these 'spicy basil noodles' were probably what's commonly known as pad kee mao, or drunken noodles. Noodles so hot you'll need several icy cold beers to wash them down. Yeah. Armed with a couple of recipes from the internet, lots of google research and some thai basil from the local asian market, I set to work. The result may not be exactly authentic, but it's amazingly close to the version I came to know and love. I wish I could say the same for my attempts at crispy basil tofu.
I miss you, Thai of Athens!
Do you have a favorite restaurant dish you lust after, but no longer have access to? Also, does anyone know the secret to deep-frying battered tofu? All the batter came off in the fryer!
you might like:
Oh, hi there. So, I just realized that I gave you guys recipes for Bread That No Sane Person Would Ever Make and then disappeared for like 10 days. Jeeeez... Perhaps I can make it up to you by sharing one of my favori ...

[cue dramatic voice-over] Previously, on eat your vegetables...vanilla bean-flecked milk transforming into yogurt! pomegranate juice being transformed into molasses! a wok of pasty tofu cubes being transformed into...well.. ...
Spicy Basil Noodles (adapted from epicurious.com)
serves 3-4 and is delicious with fried tofu cubes tossed in
14 ounce package dry wide rice noodles, or 32 ounces fresh
1/4 cup low sodium soy sauce
1 tablespoon rice vinegar
1 tablespoon water
1 teaspoon brown sugar
1 teaspoon lime juice
2 tablespoons vegetable oil, less if using fresh rice noodles that are oiled
3-6 cloves garlic, to taste, minced
1 teaspoon to 2 tablespoons finely minced fresh Thai chile, to taste
1 small bell pepper, thinly sliced
1 small white or yellow onion, thinly sliced
1 small can sliced water chestnuts, drained
1/4 to 1/2 a cup chopped fresh Thai basil, to taste
If you're using dry noodles, put them in a bowl and pour boiling hot water over them to submerge completely. Let soak for about 30 minutes, or until softened.
Stir together soy sauce, rice vinegar, water, brown sugar, lime juice; stir until sugar is dissolved. Set aside.
Heat 2 tablespoons oil in a wok or heavy skillet over medium-high heat. Add garlic and chiles; saute 30 seconds. Add bell pepper and onion; saute for a couple of minutes until they start to soften. Add water chestnuts, drained noodles or fresh ones, and soy sauce mixture. Saute, stirring and tossing until everything is evenly coated and heated through, and all the liquid has been absorbed. Turn off heat and stir in chopped basil.
*gluten-free, depending on your brand of soy sauce
7 responses to "spicy basil noodles"