snickers pie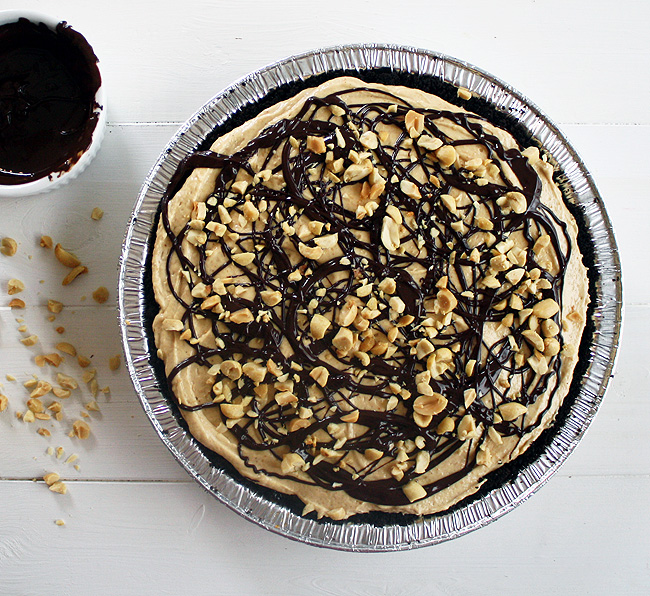 I really struggled with this one. Not that it was difficult, no, it's just that I have a butter (and therefore, cream) phobia that kicks in from time to time. So this pie was setting off all sorts of alarm bells in my brain from beginning to end, from the buttery chocolate wafer crust (considered using store-bought because I was short on time, but they looked anemic) to the caramel (barely considered using store-bought, but throwing butter into raging-hot sugar is too delightful) to the cream-cheesy, peanut-buttery mousse (if they sell ready-made peanut butter mousse at the store I don't even want to know about it.) But I suppose a decadent treat such as this is all well and good for a birthday, or the 13th anniversary of a 40th birthday. Even better, I only recently realized, for a birthday celebrated on Pi day, 3.14.
I hope you like pies, Dad, or you're in for years of birthday-dessert-hell :)
Love you!
Can we get a close up of that caramel?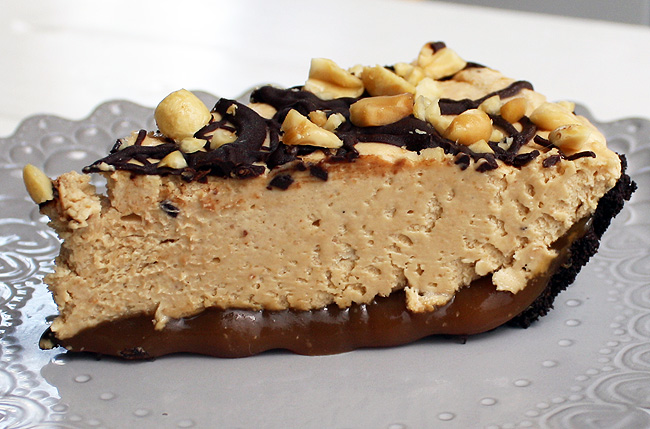 O sweet caramel, would I were chocolate, that I might enrobe thee!
you might like:
The lovely Deb, of smittenkitchen.com, always posts great recipes but there are a couple that stand out in my mind; recipes that lured me in with just a picture, induced wild fits of drooling and spontaneous grocery store ...

It all started with a simple recipe. 1 cup peanut butter 1 cup sugar 1 teaspoon baking powder 1 egg Stir. Bake. Eat. So easy, I had a pan in the oven in under 10 minutes. It's absolutely my f ...
Snickers Pie (caramel from smittenkitchen, mousse from epicurious)
this is very rich, I'd say it would serve at least 12
20 Nabisco Famous Chocolate Wafers
2 tablespoons butter, melted
1 cup sugar
6 tablespoons butter, softened (I used 2 tbsp. salted, 4 tbsp. un-)
1/2 cup heavy cream, room temperature
(or use about 3/4 cup store-bought caramel)
8 ounces creamy peanut butter
8 ounces cream cheese, room temp
1/2 to 1 cup powdered sugar (I used 1 cup because I was using natural pb)
1 tablespoon vanilla extract
1 cup heavy cream, chilled (or a regular-size tub of cool-whip)
1/3 cup chocolate chips, melted
a handful of peanuts, roughly chopped
For the crust: grind wafers in a food processor; add melted butter and pulse until well-combined. Spread evenly across the bottom and up the sides of a 9″ pie pan. Bake for about 5 minutes at 350; you'll know it's done when the scent of butter/chocolate is wafting from your oven (or toaster.) Set aside to cool.
For the caramel: Spread sugar evenly in a heavy 2-quart pan. Melt over medium heat, stirring occasionally to make sure it heats evenly. Once it's liquefied, cook to a deep copper color; just before it seems like it's going to burn/start smoking, stir in the butter until melted. Then turn off the heat and whisk in heavy cream. Pour a little over half of the caramel (about 3/4 cup) over your crust and transfer to freezer to firm up; pour the rest of the caramel into a glass jar and let cool. It will keep in the refrigerator for at least 2 weeks. You're welcome.
For the mousse: use an electric mixer to beat peanut butter and cream cheese until smooth. (If you're using natural peanut butter, the mixture may look a little curdly, but it will smooth out when you fold in the cream.) Beat in powdered sugar to taste along with vanilla. In a separate bowl, whip chilled cream to stiff peaks. Fold into peanut butter mixture in 4 additions. Spread over the chilled caramel crust, then drizzle melted chocolate over the top and sprinkle with chopped peanuts.
Serve chilled.
6 responses to "snickers pie"