quinoa taco salad
I could tell you all about quinoa and its significance to the ancient Incas and their recipe for War Balls; about its complete amino acid profile and impressive disease-fighting capabilities. Maybe you'd find it interesting that NASA is considering quinoa as a crop for long-duration space flight? Or perhaps I could tell you about how the plant is coated with bitter-tasting saponins that make it unappealing to pests. Actually, yes, I should tell you about that.
I was making quinoa cakes and the recipe called for rinsing the quinoa first. I was all like 'pssshhhh, uh-uh, I can totally skip that step.' Nope. Bitter! Rinse off those saponins! Don't be lazy like me. It is definitely inconvenient if your strainer lacks a very fine mesh, like mine. I had to line mine with cheesecloth so the grains wouldn't slip through. Worth it, though.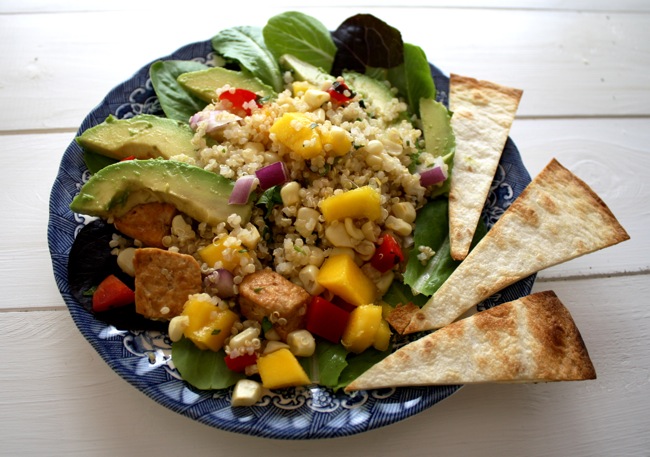 Anyway, my favorite feature of quinoa is…it's tasty. Particularly when dressed up with all sorts of goodies like fresh mango, sweet corn, red onion, cilantro, avocado, and a sunshine-y lime vinaigrette. The pictures probably gave me away, but yeah, um, I kind of like this dish.
you might like:
I love quinoa. I loved the idea of quinoa cakes. I loved it so much, I tried a recipe from Gourmet twice, and both times the cakes turned out dry and bland. Had I not happened upon a fantastic recipe from Heidi at 101co ...

Celiacs deserve a little love, too! the first recipe = chocolate quinoa cake with a fudgy chocolate (tofu!) frosting = everything a chocolate cake should be, gluten-free or not. (as long as you are patient and cook the quin ...
Quinoa Taco Salad (adapted from gluten free goddess)
serves 4 (note: recommend dressing the lettuce with a little extra lime juice and olive oil)
1 cup rinsed quinoa cooked in two cups water, scooped into a bowl to cool
olive oil, to taste
juice of two limes
salt, to taste
1/4 cup chopped fresh cilantro
half of a red onion, finely diced
1 small red or yellow bell pepper, finely diced
1 cup fresh corn kernels (or toast frozen corn for about 7 minutes, then cool)
1 mango, peeled and diced finely
1 head romaine lettuce, chopped
1 avocado, sliced
1 package firm tofu, cubed and fried, cooled
tortilla chips, toasted tortilla wedges, or taco salad shells
Drizzle olive oil over the cooked quinoa, tossing to coat. Squeeze in fresh lime juice and toss again, then season with salt to taste.
Stir in cilantro, red onion, bell pepper, corn, and mango. Stir a little to combine. Taste for seasoning.
Distribute lettuce between four plates. Spoon quinoa mixture in the center. Add slices of avocado, plus tofu cubes, to each plate. Serve with the tortilla device of your choosing.
One response to "quinoa taco salad"