pecan pie bars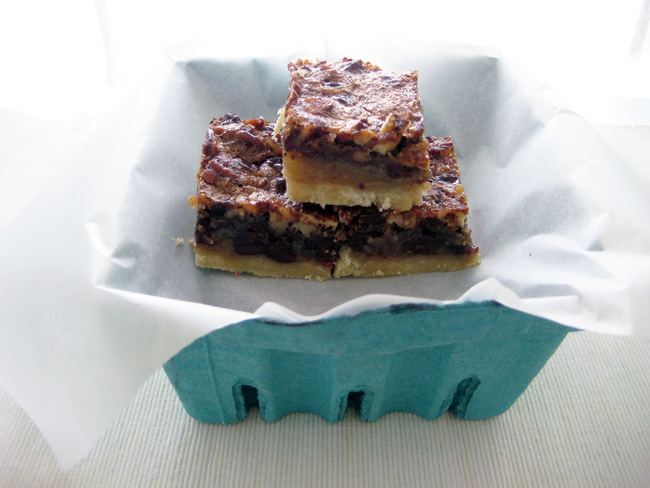 Mmmmmm. Pecan pie bars. A portable pecan pie with a luscious shortbread crust, gussied up with chocolate chunks and a hint of espresso.
To me, pecans bring to mind Eli's grandfather's family homestead. Their ancestors came from Ireland and settled together on acres of land in the country.  His grandfather lives in the charming house that once belonged to his own parents. The iconic Southern front porch is lined with rocking chairs and overlooks a grove of ancient pecan trees. Every Thanksgiving E comes home with a bounty of its fruits.
I remember the first time he brought home a paper grocery sack brimming with pecans and set it on the porch to retrieve the next morning. Our resident squirrels remember it as a magical night those silly humans set out a nut buffet on the front porch. All they left was a trail of shells leading down the front steps, those dang thieving squirrels!
Last year the stars aligned and I got a night off to head down to the farm for the annual spring fish fry. Perhaps those finicky stars will align this year and I'll be able to haul my awkward self down to the annual post-Thankgiving reunion for the first time since I started dating Eli, six (!) years ago.
If he looks scared, it's definitely because there's a man with a high-powered rifle behind the boat house. For real.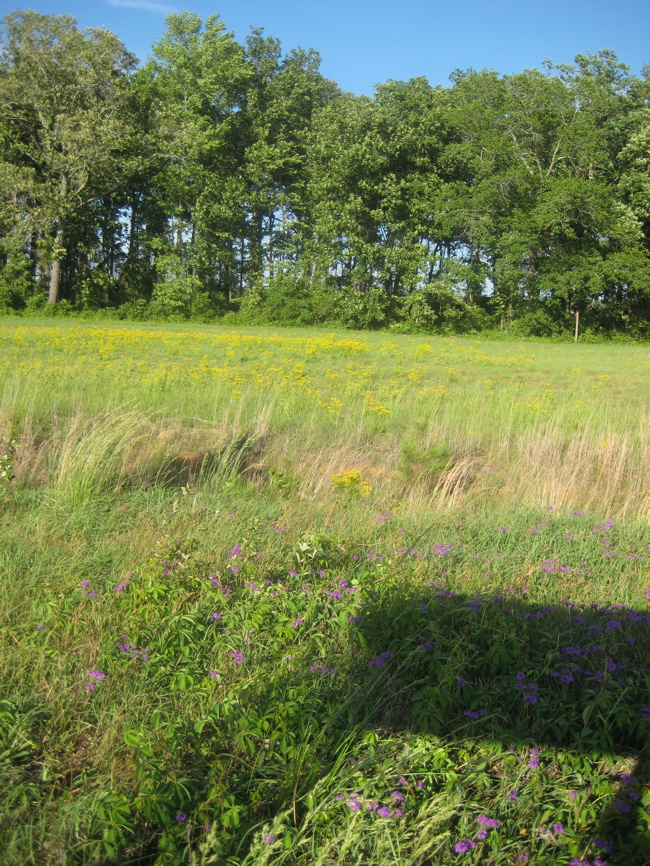 If you follow this path around the pond in a golf cart at high speed, you'll have the ride of your life! It's the perfect storm of bumpy path combined with the risk of flipping into a briar patch on one side and rolling on down into a body of water on the other.  Better than Space Mountain! (I'm sure my sister would agree :D )
Such a wonderful place.
Chocolate Pecan Pie Bars (adapted from brown eyed baker)
makes an 8×8 pan
FOR THE CRUST:
3/4 cup flour
2 tablespoons sugar
1/8 teaspoon salt
6 tablespoons butter, melted
1/2 teaspoon vanilla (optional)
FOR THE FILLING:
2 large eggs
1/2 cup corn syrup
1/2 cup sugar
2 tablespoons butter, melted
1 teaspoon vanilla
1/2 teaspoon espresso powder
1 cup chocolate chips
1 cup chopped pecans
Preheat oven to 350.
To make the crust, mix together all ingredients with your hands until incorporated and butter is absorbed into flour. Press into a greased 8×8 pan. Bake 12-15 minutes until light golden brown. Set aside to cool slightly.
For the filling, whisk together eggs, corn syrup, sugar, butter, vanilla, and espresso powder until smooth, then stir in chocolate chips and pecans. Pour filling over crust. Bake 25-30 minutes, until set. Cool, then store in the refrigerator for up to a week. Will keep at room temperature for at least a day.
3 responses to "pecan pie bars"