oatmeal chocolate cherry pecan cookies
Reader, meet one of my favorite cookies. The fact that this cookie made it to the favorites list took me by surprise; I've never been an oatmeal lover. Must have been the butter and brown sugar and tasty crunchies that won me over.
Though, just last week I cooked up a bowl of oats and managed to eat it without recoiling.
I must be getting old.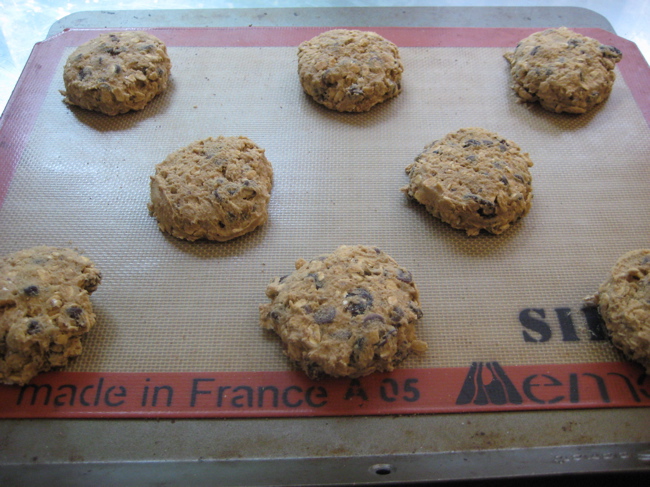 you might like:
I need to add an Aggression category. There's a recipe in Eli's great-aunt's cookbook for Aggression Cookies that I've mentally bookmarked. The opportunity to try them hasn't yet arisen, though. Mixing 3 cups of brown sugar, 3 ...

Wha? Two posts in one day? This is me trying to make up for my recent absences. This is me trying to bring as much cookie goodness to your face as I can before Christmas strikes. This...this post is about the cooki ...
Oatmeal Chocolate Cherry Pecan Cookies (from cooks illustrated)
makes about 16 large cookies
1 1/4 cups all purpose flour
3/4 teaspoon baking powder
1/2 teaspoon baking soda
1/2 teaspoon salt
1 1/4 cups old fashioned rolled oats (not instant)
1 cup chopped pecans
1 cup dried tart cherries
4 ounces dark chocolate chips or chunks
1 1/2 sticks (12 tablespoons) unsalted butter, softened
1 1/2 cups brown sugar
1 egg
1 teaspoon vanilla
Preheat oven to 350.
Sift together flour, baking powder, baking soda, and salt.
Stir together oats, pecans, chocolate, and cherries.
Using an electric mixer, cream together butter and sugar at medium speed until light and fluffy, about 2 minutes. Scrape down bowl and add egg with mixer running. Beat about 30 seconds, until egg is incorporated. With mixer running on low, add flour and mix just until combined, about 30 seconds. Add oats, pecans, chocolate, and cherries and mix just until incorporated. Give the dough a couple of folds with a rubber spatula to make sure the add-ins are evenly distributed.
Using a 2 ounce scoop or 1/4 cup measure, scoop onto cookie sheets lined with parchment or silpats, 8 cookies per pan, 2″ apart. Flatten each cookie slightly.
Bake 12 minutes, rotate, then about 8-10 more minutes. They should be golden brown but look slightly soft and underdone in the middle. They'll continue setting up a bit as they cool.
2 responses to "oatmeal chocolate cherry pecan cookies"