coconut mango cake with fresh strawberries
Let's say you went on a 100 kilometer bike ride through the countryside. Let's say it's your birthday. Let's say you're a lunatic who raced 80 laps around a 1 kilometer course at speeds approaching 40 miles per hour. My sister can claim two out of three. That, my friends, means she totally deserved a slice of cake, and another for breakfast. Breakfast cake always tastes better, right? If you're one of those maniacal crit racers, I'd say you may have earned yourself an entire cake.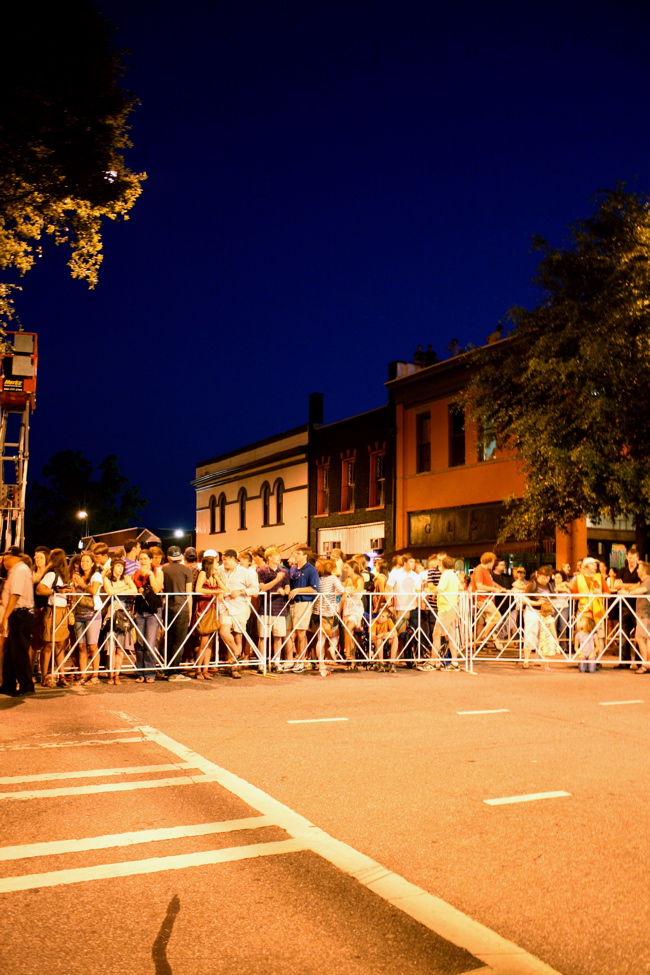 My sister and brother-in-law paid us a visit this weekend, a weekend filled with cycling, family gatherings, unprovoked beagle-snuggling, cat poking, The Office finale-viewing, and copious amounts of tasty food (cake!) and beverages. They brought a couple of growlers–cream ale and sweet potato–from a brewery in Durham called Fullsteam. I was just at their website drooling over a basil beer–coming this summer!–and falling a tiny bit in love with their graphic designer.
The Cake was a coconut cake (made with a mix–gasp!) filled with mango mousse and fresh strawberries, frosted with a silky mango buttercream. The mango mousse was slightly disappointing, so I won't include the recipe here. If I ever make this cake again, I'll fill the center with coconut cream instead. You take a can or two of pure, full-fat coconut milk and throw it in the fridge for a day or two. The cream rises to the top, which you can scoop out with a spoon, reserving the water for another use. You whisk it up with a little powdered sugar, et voila, you have coconut whipped cream. Delicious.
you might like:
I understand that you might be a little scared right now. I've presented you with a bizarre combination of mango, mozzarella, and a mysterious green goo. We were a little scared, too. Don't be. The mango, the ...

It was a beautiful afternoon for a country drive out to Washington Farms to pick strawberries. As I was walking down the dusty road from my car to their open-air white picket stand I could smell strawberries in the breeze. ...
Coconut Cake (from bon appetit)
1 cup sour cream
3/4 cup canned cream of coconut (such as Coco Lopez), be sure to stir cream of coconut before measuring
3 large eggs
1/4 cup vegetable oil
1 teaspoon coconut extract
1 tablespoon fresh lemon juice
1 18.25 ounce box white cake mix
Preheat oven to 350. Grease two 9″ cake pans.
Combine sour cream, cream of coconut, eggs, vegetable oil, coconut extract, and lemon juice in a large bowl, whisking to blend. Add cake mix and blend well. Divide batter between pans.
Bake until top is golden brown and it passes the toothpick test, about 25-30 minutes. Let cakes cool in pans about 10 minutes, then invert onto a wire rack to cool.
Silky Mango Buttercream (adapted from The King Arthur Flour Baking Companion)
makes about 6 cups frosting
1/2 cup (4 ounces) egg whites (from about 2-3 large eggs)
1/4 cup (2 3/4 ounces) light corn syrup
1 cup (7 ounces) sugar
1/3 cup (2 5/8 ounces) water
1/2 teaspoon cream of tartar
1/2 teaspoon salt
2 sticks (8 ounces) butter, softened
1/2 cup (3 1/4 ounces) vegetable shortening (makes a more stable frosting)
1 cup fresh mango puree
Place the egg whites in the bowl of your mixer with the whisk attachment.
Place corn syrup, sugar, and water in a medium saucepan. Stir over medium heat until the sugar has dissolved. Cover pan, bring to a boil; boil for 3 minutes without stirring. Remove lid and cook to soft ball stage, 240 degrees.
Meanwhile, beat the egg whites on low speed. When foamy, add cream of tartar and salt. Gradually increase mixer speed, beating until soft peaks form.
As soon as sugar syrup reaches 240, remove it from heat. Turn off mixer. If you have a glass measuring cup with a spout, quickly and carefully pour into it the sugar syrup. This will make it easier to pour the sugar syrup into the mixing bowl. With the mixer off, carefully pour about a third of the syrup down the inside of the mixing bowl. Quickly turn the mixer on and beat well. Add the syrup in two more additions, working as quickly as possible. Don't pour sugar syrup into bowl while mixer is on or it may splash. Sugar syrup can seriously burn.
Continue to beat meringue on medium speed until it has cooled to room temperature, about 20 minutes. When it's completely cool, beat in the butter a little at a time. If the frosting starts to separate, continue beating without adding more butter until it comes together again. Beat in shortening, then add the mango puree a little at a time, beating after each addition and keeping an eye out for separation.
Use immediately, or refrigerate up to a week. Soften refrigerated icing a little at room temperature, then beat until smooth.
To assemble: layer of cake, top with sliced strawberries, coconut cream filling, top with more sliced strawberries, layer of cake, frost outside with mango buttercream.