chocolate icebox cake (from scratch)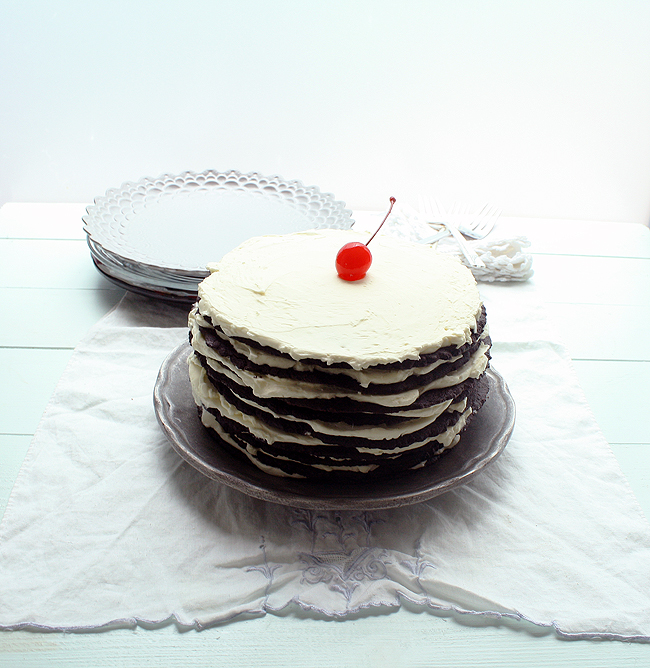 I made this cake for my mom's (belated) birthday, which seems fitting since she taught me how to make it, and her mom taught her. Is there a better way to say that? Probably.
Thanks, mom, for being born! Had I gotten any other mamabear, they probably would have left me out in the woods at some point during my teenage years.
This cake is based off that classic Nabisco chocolate wafer recipe. Stack wafers with whipped cream, chill, eat, shudder with delight. That one. This particular version arose from a simple question: "how can I make this as difficult awesome as possible?" Answer: homemade chocolate wafers + white chocolate whipped cream. Homemade chocolate wafers = awesome. White chocolate whipped cream = difficult.
I poured hot cream over some white chocolate chips, stirred, then popped the bowl into the refrigerator. It was all downhill from there. My impatience got the better of me; I didn't let the cream chill long enough, so it wouldn't whip up with a handmixer. I tried a blender. I tried chilling the mixture, in the blender, in the freezer, just for a few minutes. It started to freeze, I panicked and pulsed it in the blender just a couple of times. It became a very delicious butter. Back to the bowl, back to the handmixer, I was able to whip it into a buttercream-like concoction. Tasty, but not what I wanted. If anyone wants to recreate this madness, it was 2 cups heavy cream with 4 ounces white chocolate. Next time, I'll stick to regular old whipped cream.
The wafer recipe performed admirably despite some silliness on my part. I kind of didn't have enough butter. I kind of had 0 ounces of granulated sugar in the cupboard. What kind of baker am I?!! Powdered sugar and a leeetle bit of shortening happened to work out just fine. I was able to smoosh the dough in a tortilla press, no prob.
I sort of made this cake sound like a disaster, didn't I? It totally wasn't. I liked it. Everyone else liked it. But most importantly, my mom liked it. Happy (extra-belated) birthday, mamabear!
you might like:
I'm 28 today. I must be getting old, because instead of using my birthday as an excuse to try some decadent recipe I've been eyeing, I'm going to keep it simple and allow The Grit to provide me with a (single!) slice of cake. ...

This cupcake was my creation for a certain contest that required the utilization of chocolate plus one or more of ingredients off a large list that included things like beets and bee pollen and adzuki beans. I played it sa ...
Chocolate Wafers (from Alice Medrich's Pure Dessert)
makes about a dozen giant wafers
1 1/2 cups all purpose flour
3/4 cup cocoa (I used 1/2 a cup Hershey's Special Dark + 1/4 cup natural unsweetened)
1 cup plus 2 tablespoons granulated sugar
1/4 teaspoon salt
1/4 teaspoon baking soda
1 3/4 sticks butter, slightly soft
3 tablespoons milk
1 teaspoon vanilla
In a food processor, pulse flour, cocoa, sugar, salt, and baking soda until well-combined. Add butter and pulse several times. Add vanilla and milk and pulse until the dough clumps together into a large mass.
Scoop into large 2-ounce (around the size of a golf ball) balls and refrigerate for at least an hour, or until needed.
Preheat oven to 350.
Put a ball of dough between two sheets of wax paper, flatten in a tortilla press, then transfer to a baking sheet. I was able to fit 3 per pan.
Bake 12-15 minutes. The cookies will puff up, then deflate; they are done about two minutes after deflation. When mostly cool and set, transfer to a wire rack. They will crisp up as they cool; if they're too soft for your liking you can pop them back in the oven for a couple of minutes.
To assemble: whip two cups of heavy cream with a couple of tablespoons powdered sugar (and vanilla if desired) to stiff peaks. Slather a thick layer of cream on top of a cookie, stacking until you've finished off all of the cookies. Refrigerate cake overnight, or until the cookie layer is completely softened.
14 responses to "chocolate icebox cake (from scratch)"