chocolate chip cookies, classic + vegan/gluten-free
With Christmas lurking less than three weeks away, my sister and I need to get cracking on our annual holiday tradition of sending out tins of cookies. I'm not sure what's on this year's menu yet, but chocolate chip cookies have made an appearance every year thus far.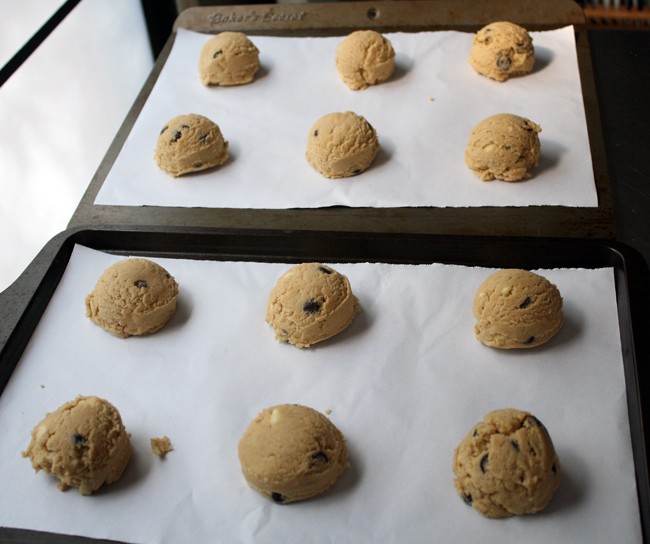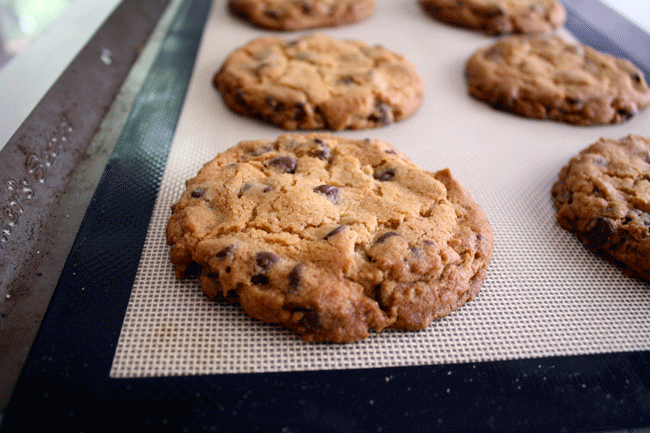 Most of my experiences with chocolate chip cookies have involved gathering logs of the sticky, parchment-wrapped dough from a dank, dimly-lit walk-in refrigerator. And I still like them! That's a testament to chocolate chip cookies' deliciousness, I think. For years, that recipe from work was my go-to. But I grew out of it, one day finding the result too cake-y for my liking.
Fortunately, I stumbled upon that ubiquitous New York Times recipe. It was similar enough to the recipe I had used for years, but somehow resulted in a much chewier chocolate chip cookie. Perfect.
I also have a favorite healthy, yet still delicious, (and admittedly, expensive) chocolate chip cookie recipe. Though, if you order almond flour online, you can get it for about half the price of Bob's Red Mill brand from the grocery store. Some commenters had problems using Bob's almond flour in this recipe, though mine turned out fine. Fluke? Perhaps…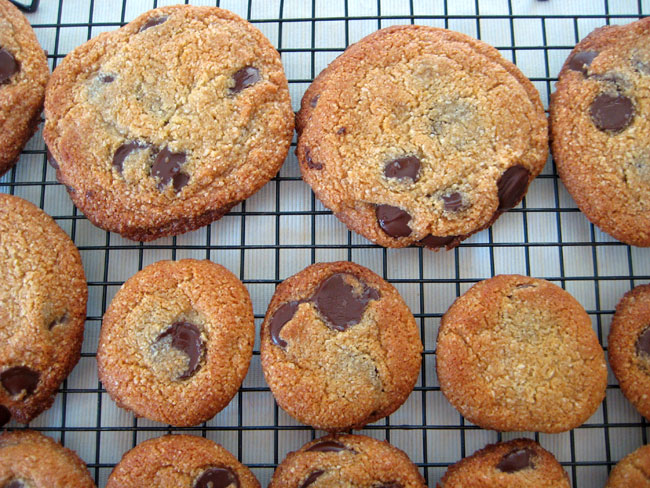 I'll be back soon with a recipe for…
Dun dun DUN!!
Gingerbread! This guy with the pretty set of chompers is actually one of the tamest of the bunch…
you might like:
I need to add an Aggression category. There's a recipe in Eli's great-aunt's cookbook for Aggression Cookies that I've mentally bookmarked. The opportunity to try them hasn't yet arisen, though. Mixing 3 cups of brown sugar, 3 ...

You slather silky pink peppermint buttercream between two soft, shortbread-y chocolate wafers. You press the two sides together ever so gently to urge the buttercream to the edges, just enough to attract the bits of crushed ca ...
Chocolate Chip Cookies (from Jacques Torres via the New York Times)
makes about 2 dozen large cookies
2 cups minus 2 tablespoons (8 1/2 ounces) cake flour
1 2/3 cups (8 1/2 ounces) bread flour (I subbed all-purpose for all the flour)
1 1/4 teaspoons baking soda
1 1/2 teaspoons baking powder
1 1/2 teaspoons coarse salt
2 1/2 sticks (1 1/4 cups) unsalted butter, softened
1 1/4 cups (10 ounces) light brown sugar
1 cup plus 2 tablespoons (8 ounces) granulated sugar
2 large eggs
2 teaspoons vanilla extract
1 1/4 pounds bittersweet chocolate chips (or a mixture of chips and nuts)
(sea salt–optional)
Sift together flour(s), baking soda, baking powder, and salt. Set aside.
Using a mixer with the paddle attachment, cream butter and sugars until very light and fluffy, about 5 minutes, scraping down the bowl occasionally. Add eggs one at a time, mixing well and scraping bowl after each addition. Stir in the vanilla. Reduce speed to low and add flour mixture, mixing just until combined, 5-10 seconds. Add chocolate and nuts, if using, and mix just long enough to incorporate without breaking them. Scoop with a 2-ounce scoop (a little bigger than a golf ball), then cover and refrigerate at least 24 hours, up to 72. Or freeze for up to a month, and defrost before baking.
Preheat oven to 350 and line a baking sheet with parchment or a silpat. A half-size sheet pan will accomodate about 6 cookies. I always press them down about halfway with the palm of my hand, but this isn't absolutely necessary. If desired, sprinkle the tops lightly with sea salt. Bake until golden brown, but still soft, about 15-20 minutes. Let cool on pan for about 10 minutes, then transfer to a wire rack to cool a little more.
Gluten-free Chocolate Chip Cookies (from Elana's Pantry)
makes about 2 dozen cookies
2 1/2 cups blanched almond flour (10 ounces)
1/2 teaspoon sea salt
1/2 teaspoon baking soda
1 cup bittersweet chocolate chips
1/2 cup grapeseed oil
1 tablespoon vanilla extract
1/2 cup agave nectar
Preheat oven to 350.
Whisk together dry ingredients. Whisk together wet ingredients. Stir wet into dry, using a large spoon or your hands.
Form into 1″ balls for small cookies or use a 2-ounce scoop for large; press onto parchment paper or a silpat.
Bake small cookies for 7-10 minutes, large for a few minutes longer. Let sit on sheet for a bit after baking to set up, then transfer to a wire rack to cool more.
2 responses to "chocolate chip cookies, classic + vegan/gluten-free"