pecan sandies
Wha?
Two posts in one day?
This is me trying to make up for my recent absences.
This is me trying to bring as much cookie goodness to your face as I can before Christmas strikes.
This…this post is about the cookie that has recently captured my heart and possibly nudged peppermint sandwich cookies into second place.
Pecan sandies. Great cookie, not so great picture. Oh well.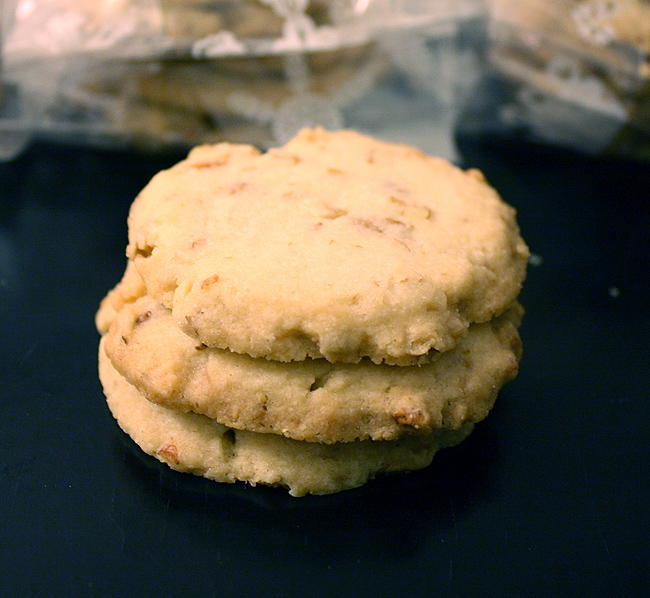 Eli brought back the usual paper sack brimming with pecans from Wrens (Georgia) after Thanksgiving. I hauled them to my sister and brother-in-laws house for the Christmas cookie bake-fest. Wandering downstairs after a siesta, I found them at the dining room table shelling the pecans of their own accord. Then I realized they might just be masochists :D Usually our local pecan-shellery does a good job of breaking the shells in half so they can easily be separated. Our theory for this particular batch: their machinery broke down so someone casually ran the bag over with their car. Once. Our hands would have appreciated some nut crackers. Ah well. The pecans were delicious, so the effort was worthwhile. I guess.
you might like:
Mmmmmm. Pecan pie bars. A portable pecan pie with a luscious shortbread crust, gussied up with chocolate chunks and a hint of espresso. To me, pecans bring to mind Eli's grandfather's family homestead. Their ancestors c ...

Reader, meet one of my favorite cookies. The fact that this cookie made it to the favorites list took me by surprise; I've never been an oatmeal lover. Must have been the butter and brown sugar and tasty crunchies that won ...
Pecan Sandies (from Frank Stitt's Southern Table)
makes about 3 dozen
2 cups all purpose flour
1/2 teaspoon salt
2 sticks good butter
1/4 cup sugar
1 teaspoon vanilla
1 cup pecans, toasted and finely chopped
Stir together flour and salt.
Beat butter and sugar with the paddle attachment for 5 minutes, until very fluffy. Add vanilla.
Add flour and salt in 2 batches, mixing just until combined. Mix in pecans for just a few seconds.
Scoop cookie dough using a 3/4 ounce scoop, then refrigerate for about an hour.
Preheat oven to 350.
Place cookies about 2 inches apart on parchment or silpat-lined baking sheets. Use a small square of wax paper and the bottom of a glass to press each cookie to about 1/4″ thick.
Bake until set and very light golden brown around the edges, about 12-15 min. Cool on wire racks.
2 responses to "pecan sandies"