orange-cornmeal cake with strawberry-rhubarb compote
Spring has sprung, and that means a couple of things.
Strawberries.
Rhubarb.
Feeling like a creep because you're crouched in the azalea bushes with a camera when the FedEx guy pulls into the driveway.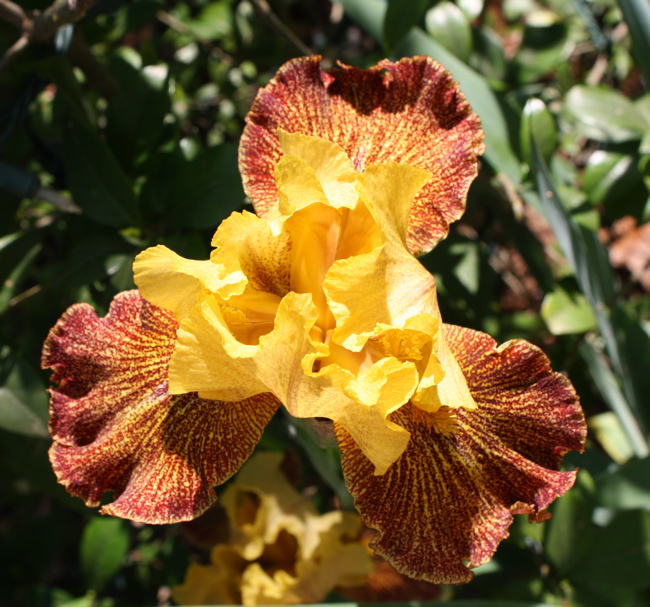 The strawberries and the rhubarb were cooked into a delightful, slightly tart mush compote, then spooned, warm, over an orange-cornmeal cake and topped with fro yo. Orange and cornmeal go together like strawberries and rhubarb (have you ever had orange cornmeal cookies?) and the cornmeal in the cake creates delightful little crunchies. The frozen yogurt? It looked pretty, but it overpowered everything else. I'd go for whipped cream next time. Or perhaps non-frozen yogurt?
Happy Spring!
you might like:
It was a beautiful afternoon for a country drive out to Washington Farms to pick strawberries. As I was walking down the dusty road from my car to their open-air white picket stand I could smell strawberries in the breeze. ...

There are some crazy things happening with the colors in this photo that I can't even begin to address: But I needed it to show you a couple of things.  Like...crackly, cheesy crust. Creamy interior flecked with bits of ...
Orange-Cornmeal Cake (from gourmet)
makes one 9″ layer
1 cup all purpose flour
1/2 cup yellow cornmeal
1 1/2 teaspoon baking powder
1/2 teaspoon salt
1/2 cup (1 stick) unsalted butter, room temperature
1 tablespoon finely grated orange peel
1 cup sugar
2 large eggs, room temperature
1/2 cup sour cream
1 teaspoon vanilla extract
Butter and dust with cornmeal a 9″ cake pan. Preheat oven to 350.
Whisk or sift together flour, cornmeal, baking powder, and salt.
Using an electric mixer, beat butter and orange zest together until smooth; add sugar and beat until light and fluffy, scraping down the sides occasionally. Add eggs one at a time, scraping down the sides after each addition. Mix until smooth. Beat in sour cream and vanilla. Add dry ingredients in three additions on low speed. Beat just until incorporated. Spoon batter into prepared pan, smoothing the top.
Bake around 25-30 minutes, until toothpick comes out clean. Cool in pan 10 minutes, then transfer to cooling rack.
Strawberry-Rhubarb Compote (from smittenkitchen.com)
makes about 4 cups
1 pound strawberries, quartered (reserve a quarter pound to be added raw to the cooked sauce)
1 pound rhubarb, fresh or frozen
1 lemon, from which you will need 1 teaspoon of zest and 1 tablespoon juice
3/4 cup sugar
Put all ingredients (except a quarter of the strawberries) into a saucepan over medium high heat. Stir to dissolve the sugar. Bring to a boil; boil about 5 minutes to reduce the liquid a little. Then lower heat and simmer another couple of minutes until rhubarb is soft. Turn off heat and stir in the reserved berries. Serve warm, or let cool then refrigerate. Keeps for a couple of weeks. PS. It's really good with yogurt.