not banana bread
Almost a year ago to the day, I was on a quest for the perfect banana bread. Ideas for a blog were floating about my brain, and a bunch of bananas were rotting on the counter. My mission became clear: to bring The Best Banana Bread to the internets via my very first blog post.
I learned a couple of things right off. One: there are already a LOT of "best" banana bread recipes out in the wilds of the internet. So, I had to lay out the requirements for my perfect banana bread:
moist and soft
not too sweet
kinda healthy
banana-y
easy to make
Check.
Two: banana bread=meh. [*now eating words*] Too many recipes failed to meet my stringent banana bread standards, using a whole hour of oven time in the process. I think banana muffins or cakes are the way to go. They deliver warm, delicious banana-y goodness to your face in a fraction of the time.
So, for my very first post I give you not one, but two, recipes. Banana muffins. And banana cake! The banana muffins are healthier and good for breakfast. The banana cake is good for breakfast, too–though this is coming from someone who recently made french toast with buttery rum sauce for breakfast–but it is definitely more of a dessert. Eli wants me to slather it with cream cheese icing for his b-day cake.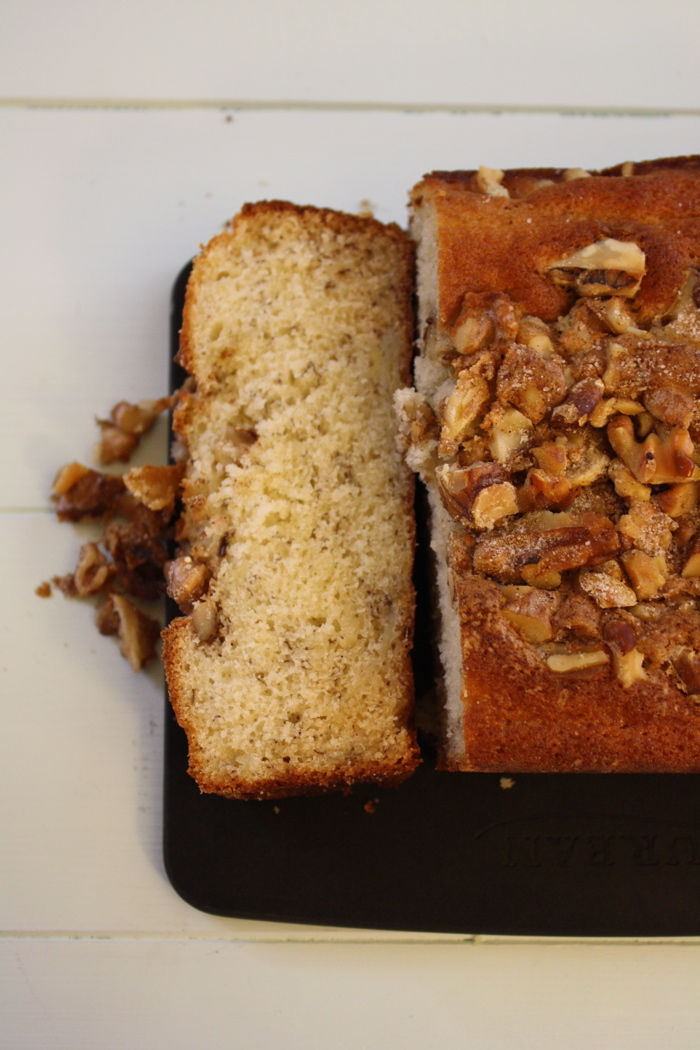 you might like:
I kicked off my blog with a post in which I swore off banana bread forever. A string of failed recipes had left me jaded. Well. I should have listened to Zack. He told me I should try the recipe in a cookbook call ...

I need to add an Aggression category. There's a recipe in Eli's great-aunt's cookbook for Aggression Cookies that I've mentally bookmarked. The opportunity to try them hasn't yet arisen, though. Mixing 3 cups of brown sugar, 3 ...
Banana Muffins (adapted from allrecipes.com)
makes about 15 regular-sized muffins
2 large eggs
1/3 cup buttermilk
1/3 cup vegetable oil
2 large bananas or 3 regular-sized or 4 small, extra-ripe and mashed
1 cup sugar
1 1/2 cups flour (I used 1 cup white, half a cup whole wheat)
1/4 cup ground flax seeds
1 teaspoon baking soda
1/2 teaspoon salt
Preheat oven to 350. Spray muffin tins with no-stick or line with papers.
Whisk together flour, flax seeds, baking soda, and salt.
In another bowl, whisk together sugar and oil briefly, then whisk in the eggs one at a time until smooth. Whisk in banana puree and buttermilk until smooth. Whisk in the flour mixture just until combined, being careful not to overmix.
Fill muffin cups about 2/3 full. I baked them about 25 minutes. These kept at room temperature for about 3 days; they also freeze well.
Banana Yogurt Cake (adapted from smittenkitchen.com)
1 cup all purpose flour
1/2 teaspoon baking powder
1/2 teaspoon baking soda
1/4 teaspoon salt
1/2 stick (4 tablespoons) unsalted butter, softened
2/3 cup sugar
1/2 teaspoon vanilla
1 large egg
1/2 cup plain or vanilla yogurt
2 regular-sized bananas or 3 small, extra-ripe and mashed
1/2 cup chopped nuts + cinnamon sugar for topping
Preheat oven to 375. Spray a loaf pan (or 9″ round cake pan) with non-stick spray.
Whisk together flour, baking powder, soda, and salt.
With an electric mixer, beat butter and sugar at medium-high speed until pale and fluffy, about 2 minutes, then add vanilla. Add egg and beat until well combined.
On low speed, mix in half the flour mixture, then the yogurt and banana puree, then the rest of the flour, stopping to scrape down the bowl as needed. Mix just until combined. Scrape batter into pan, smoothing the top. Sprinkle top with chopped nuts, then cinnamon sugar.
Bake around 25 minutes. You'll know it's done when it's golden brown and passes the toothpick test.
Cool in the pan about 10 minutes, then transfer to cooling rack.