mango caprese with basil vinaigrette
I understand that you might be a little scared right now.
I've presented you with a bizarre combination of mango, mozzarella, and a mysterious green goo.
We were a little scared, too.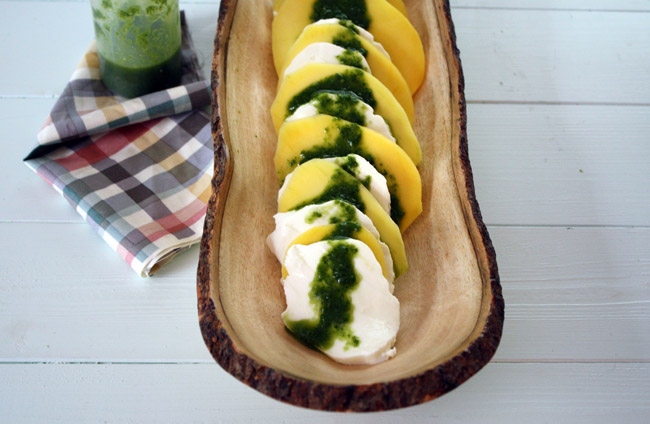 Don't be. The mango, the cheese, the basil vinaigrette; they mesh into a light, refreshing, luscious (and addictive) salad that could put a traditional tomato-based caprese to shame.
you might like:
I love quinoa. I loved the idea of quinoa cakes. I loved it so much, I tried a recipe from Gourmet twice, and both times the cakes turned out dry and bland. Had I not happened upon a fantastic recipe from Heidi at 101co ...

Let's say you went on a 100 kilometer bike ride through the countryside. Let's say it's your birthday. Let's say you're a lunatic who raced 80 laps around a 1 kilometer course at speeds approaching 40 miles per hour. My sister ...
Mango Caprese with Basil Vinaigrette (adapted from epicurious)
serves about 4
1/2 cup chopped basil
3 tablespoons mild olive oil
2 tablespoons white balsamic vinegar
2 large, ripe mangoes, peeled and thinly sliced
8 ounces fresh mozzarella cheese, cut into 8 slices
Combine basil, oil, and vinegar in a mini food processor until most of the basil is pureed. (Or chop basil as finely as possible by hand, then combine with oil and vinegar.) Season with salt and pepper.
Alternate slices of mango and cheese, then drizzle with vinaigrette.
7 responses to "mango caprese with basil vinaigrette"