harissa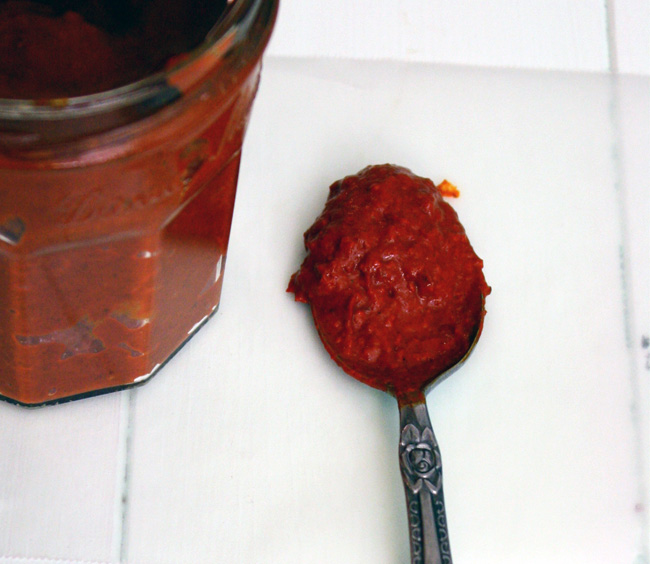 Not being much of a condiment-lover, I usually eat my fries plain, and would opt for a dry sandwich rather than one slathered with mayonnaise. When I spotted a recipe for harissa while flipping through an issue of Saveur a few years ago, I didn't immediately envision all the things that I would slather the spicy North-African condiment on, though rumor has it it's more versatile than ketchup or mayonnaise and takes kindly to meats, eggs, sandwiches, and all manner of vegetables. I did, however, know that I absolutely had to try the recipe, since it would make the perfect gift for Eli's dad, a man who can order his food Indian-hot. (!)
While not Indian-hot, this spread has a gentle heat (though you can always sub in more bite-y chiles) and a really nice flavor, probably owing to the toasted spices. I was surprised at how much I enjoyed the bit that was left over, slathering it on a grilled cheese made with corn tortillas and topped with scrambled eggs and a little oregano.
The chiles were only mildly difficult to find. Our regular supermarket (Kroger) had some loose dried guajillo chiles in the produce section, and I finally tracked down a package of New Mexico chiles on a hanging rack in the produce section of our "fancier" grocery store (EarthFare.) I hesitate to recommend Wal-Mart, since they're currently trying to destroy our downtown, but the last time I was there I noticed they had an incredible selection of dried chiles. Or you could buy them online.
you might like:
This cupcake was my creation for a certain contest that required the utilization of chocolate plus one or more of ingredients off a large list that included things like beets and bee pollen and adzuki beans. I played it sa ...

Keepin' it simple. Too much to do, too little time. Just enough time, though, to make a Fancy Lunch. Grilled some asparagus spears until tender, along with peach halves until they had some tasty grill marks on 'em.  M ...
Harissa (from saveur)
makes about a cup
8 dried guajillo chiles (about 2 ounces), stemmed and seeded
8 dried new mexico chiles (about 1 1/2 ounces), stemmed and seeded
1/2 teaspoon caraway seeds
1/4 teaspoon cumin seeds
1/4 teaspoon coriander seeds
1 teaspoon dried mint leaves
3 tablespoons olive oil, plus more to top
1 1/2 teaspoons kosher salt
5 cloves garlic
juice of one lemon
Place chiles in a bowl and cover with boiling water. Let sit until softened, about 30 minutes. Toast caraway, cumin, and coriander in a small skillet over medium heat, swirling constantly until very fragrant, about 3 minutes. Transfer to a grinder along with mint; grind to a fine powder and set aside.
Drain the chiles and transfer to food processor, along with spice mixture, olive oil, salt, garlic and lemon juice. Puree, scraping down the sides occasionally, until very smooth, about 2 minutes. Transfer to a one-pint glass jar; fill with olive oil until the harissa is covered by about 1/2″ Refrigerate, replenishing the oil as needed. Will keep for about a month.