fig bars, part deux
Do you know or maybe even love someone who has celiac disease?
Perhaps you should give them a hug.
Or, you could present them with these fig bars.
And, yeah, maybe give them a hug, too. A life spent dodging even trace amounts of wheat sounds like kind of a bummer.
I loved these soft and spicy little cookies. If you're not a crazed lunatic who insists that their fig bars assume the form of fig newtons, I imagine you can make the process a bit easier by baking the dough/filling as one giant cookie, a la the original recipe.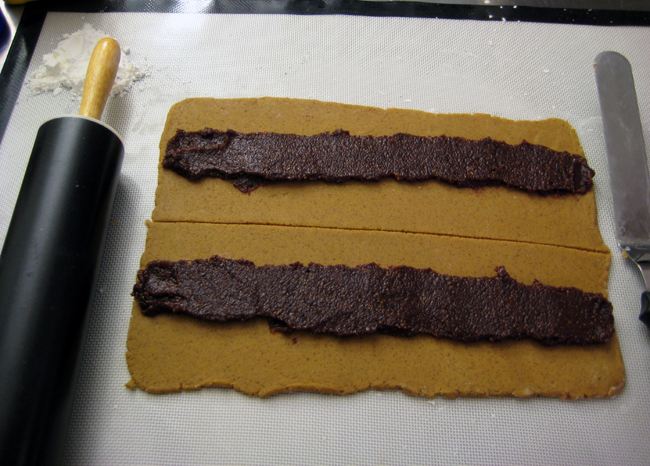 xoxo
pssst…a recipe for fresh fig filling is here.
you might like:
Figs will always bring to mind a late summer evening spent at an enchanting victorian house tucked just in the woods behind a sprawling pasture. Years ago, it was lovingly hacked to pieces and transported to be rebuilt at the ...

Ahhh. Hello, Cinnamon Rolls. I remember the morning I made you as if it were yesterday. The year was 2010. The month was April. The time was a hair before the buttcrack of dawn on a dark, beautiful Saturday morning. I slipp ...
Gluten-Free Fig Bars (adapted from 101cookbooks)
1/2 a pound dried figs
1 cup pomegranate juice
1/4 cup orange juice
1 cup brown rice flour
1 cup sorghum flour
1/2 cup tapioca flour
1/2 teaspoon baking soda
1 teaspoon baking powder
1/2 teaspoon xanthan gum
1 teaspoon salt
1/4 teaspoon nutmeg, 1/4 teaspoon ground ginger, 1/2 a teaspoon cinnamon
1 cup turbinado sugar
1 stick (1/2 a cup) unsalted butter, softened
1 large egg
1 teaspoon vanilla
2 tablespoons molasses
To make the filling: roughly chop the figs, then throw into a saucepan with juices. Simmer over low heat for about 5 minutes, then cover and let cool to room temperature. Put mixture in a food processor and blend until smooth. Store in refrigerator.
To make the dough: Whisk together dry ingredients.
Put butter and sugar in the bowl of an electric mixer; cream for a couple of minutes until well-blended, scraping down the sides occasionally. Add the egg, vanilla, and molasses. Mix until smooth. Add dry ingredients and mix just until blended. Wrap dough in plastic (shape into a rough rectangle) and refrigerate for at least an hour.
*Preheat oven to 350.
To shape the cookies: On a silpat or "floured" surface, roll the dough into a rectangle approximately 10×14 inches. Cut dough in half length-wise. Spread two lines of fig filling down the center of each piece. You'll have some leftover filling; this is a good thing, I think. Good on toast! Fold the dough over the filling, making sure the dough overlaps itself. Press seam closed, then flip each log over and cut into 1″ pieces. Transfer to a cookie sheet lined with a silpat or parchment.
Bake for about 15 minutes, or until the edges are just starting to get golden and toasty. Cool on pan for 10 minutes, then transfer to a wire rack.
2 responses to "fig bars, part deux"