cinnamon sugar doughnut muffins
It's rare that a recipe will make its way to this site right away. Usually I just dig into the photo archives to see what catches my eye.
(Nope, I did not make fig bars followed by gluten-free fig bars followed by a fig and raspberry cheesecake finished off with a fig and blueberry cake. My sweet tooth can be a bit maniacal, but it's not that bad.)
Last night, though, I got an insatiable craving for doughnuts. There was not going to be any deep frying or dough yeasting or doughnut cutting, however. I settled on a recipe I've had tucked away for years: doughnut muffins. As I read through the recipe, by brain began insisting on coconut. My brain is weird. I don't know.
The trusty internet told me that coconut flour can replace up to 25% of the flour in a recipe, as long as you increase the liquid by the same amount. Well, okay. Thanks, Internet!
These things are totally delicious; soft, mildly coconutty, slightly addictive. Is it even possible to dislike anything rolled in cinnamon sugar? They're good enough to share here, fresh out of the oven. It's a rare moment.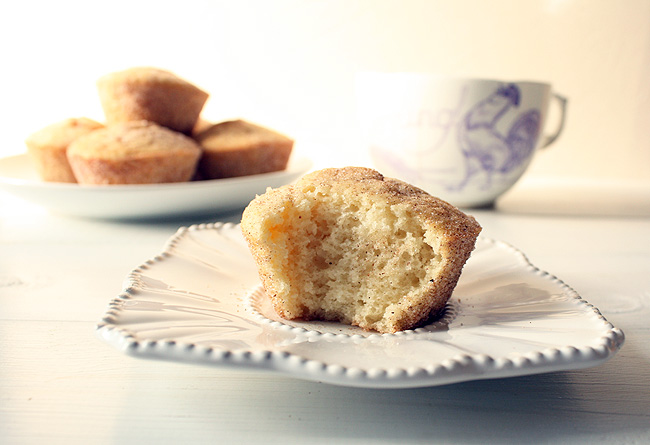 you might like:
Ahhh. Hello, Cinnamon Rolls. I remember the morning I made you as if it were yesterday. The year was 2010. The month was April. The time was a hair before the buttcrack of dawn on a dark, beautiful Saturday morning. I slipp ...

Do you know or maybe even love someone who has celiac disease? Perhaps you should give them a hug. Or, you could present them with these fig bars. And, yeah, maybe give them a hug, too. A life spent dodging even t ...
Cinnamon Sugar Doughnut Muffins (adapted from here)
makes about 12
3/4 cup sugar
1 egg
1 1/4 cup all purpose flour
1/4 cup coconut flour
2 teaspoons baking powder
1/4 teaspoon salt
1/4 teaspoon ground nutmeg
2 tablespoons coconut oil
1 cup low-fat buttermilk
1 teaspoon vanilla
cinnamon sugar (3 tablespoons sugar plus one teaspoon cinnamon)
Preheat oven to 350. Lightly spray a regular-sized muffin tin with no-stick.
Whisk together flour, coconut flour, baking powder, salt, and nutmeg.
Vigorously whisk together sugar and egg for about a minute. Add dry ingredients, oil, buttermilk, and vanilla, stirring just until combined.
Divide batter between tins, filling each cup 2/3 full. Bake until a toothpick comes out clean, about 15 minutes. Let cool in pan about 10 minutes, then carefully remove and roll in cinnamon sugar, coating all sides.
7 responses to "cinnamon sugar doughnut muffins"