chocolate peanut butter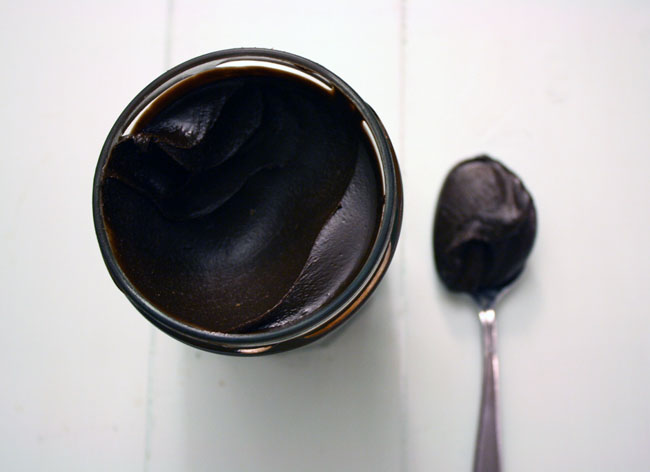 The lovely Deb, of smittenkitchen.com, always posts great recipes but there are a couple that stand out in my mind; recipes that lured me in with just a picture, induced wild fits of drooling and spontaneous grocery store expeditions. Bread and tomatoes. The incomparable chocolate peanut butter cake. Chocolate peanut butter. Statistics point to a shared love of chocolate + peanut butter. Also common ground? Enjoyment of chocolate + nut spreads eaten with a spoon.
To be honest, I've only eaten this spread by the spoonful. Why dilute it's pure, intense chocolately goodness with a silly piece of bread or a ridiculous cracker?
Chocolate peanut butter + spoon = dessert
The End.
you might like:
I really struggled with this one. Not that it was difficult, no, it's just that I have a butter (and therefore, cream) phobia that kicks in from time to time. So this pie was setting off all sorts of alarm bells in my brai ...

It all started with a simple recipe. 1 cup peanut butter 1 cup sugar 1 teaspoon baking powder 1 egg Stir. Bake. Eat. So easy, I had a pan in the oven in under 10 minutes. It's absolutely my f ...
Chocolate Peanut Butter (adapted slightly from smitten kitchen)
2 cups raw peanuts
1/2 cup unsweetened cocoa powder
3/4 cup powdered sugar, up to 1 1/4 cups
1/4 teaspoon salt, or to taste
3 tablespoons grapeseed oil
Preheat oven to 400 (I used a toaster oven).
Spread the peanuts on a cookie sheet and roast for about 10 minutes, until darkened, stirring about halfway through.
Transfer peanuts to a food processor and grind for about 5 minutes. They'll become a paste, then liquefy. Scrape down the sides, then add the cocoa powder, sugar, salt, and oil. Process for another minute. Taste for salt and sugar.
Store up to a week in the refrigerator.