cacao nib macarons with ganache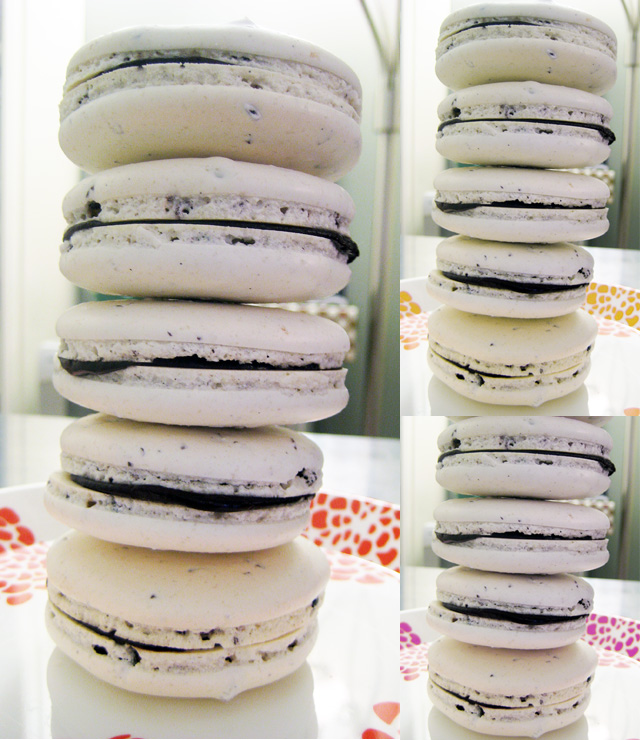 cacao nibs = chocolate in its (almost) purest form
Nibs are cacao beans that have been hulled and roasted and hacked up into little bits. The nibs can then be ground up further and processed along with more cacao butter, sugar, milk, and other flavorings to make a chocolate bar.
Yep, I just googled cacao nibs. I've used/eaten a bunch in my time, but only now realized that all I knew about them is that they were some form of chocolate. Maybe that's all I needed to know.
Cacao nibs draw out the deep, dark flavors lurking within any finished chocolate. Which is why chocolate-coated nibs make such a tasty snack. And why macarons flecked with nibs and sandwiching a dark chocolate ganache make such a killer cookie.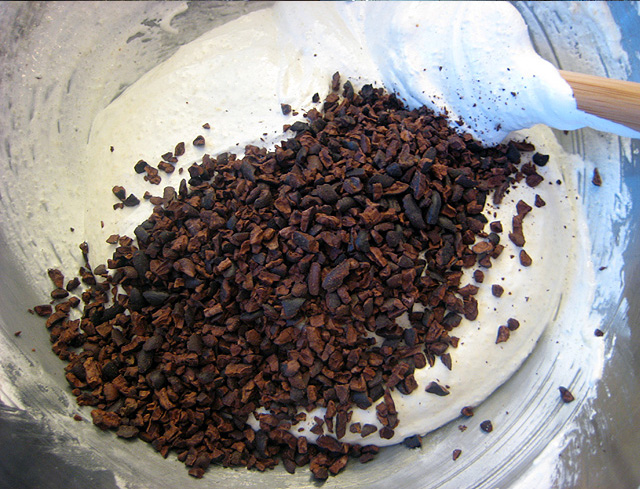 (Any other suggestions for nib usage would be much appreciated!)
P.S. Don't be afraid of making macarons. I'll admit that they made me nervous, until I found this recipe called Almost Foolproof Macarons. They came out perfect on the first try, frilly little feet and all.
you might like:
You didn't think that the chocolate posts would end on Valentine's Day, did you? Okay, that was the plan. Plans. Ha! You may want to make these decadent little treats only once a year, but who says it has to be on V- ...

With Christmas lurking less than three weeks away, my sister and I need to get cracking on our annual holiday tradition of sending out tins of cookies. I'm not sure what's on this year's menu yet, but chocolate chip cookie ...
Cacao Nib Macarons (adapted from my food geek)
almond flour: 150 grams
powdered sugar: 150 grams
granulated sugar: 150 grams + 35 grams
water: 50 grams
egg whites: 60 grams + 60 grams, room temperature
about 3/4 cup cacao nibs
Blend almond flour and powdered sugar in a food processor until well-combined. Or you could sift by hand.
To make the sugar syrup: in a saucepan, bring 150 grams granulated sugar and 50 grams water to a boil over medium to medium-high heat; bring to 230 degrees on a candy thermometer.
Meanwhile, using a stand mixer, whip 60 grams egg whites to soft peaks, then mix in 35 grams sugar. With mixer running, slowly add sugar syrup in a steady stream; whip on medium high until cool and very shiny, about 10-15 minutes.
Preheat oven to 320.
In a bowl, stir together 60 grams egg whites and your almond/powdered sugar mixture. Carefully fold in the cooled meringue, along with cacao nibs. Transfer mixture to a piping bag with a large, plain round tip. Pipe circles on a baking sheet lined with parchment or a silpat. Tap sheet on the counter a couple of times, then bake for about 15-25 minutes. To test for doneness, grab the top of one macaron–they're done when the top barely slides against the feet. Cool, then sandwich with buttercream or ganache.
Ganache
4 ounces bittersweet chocolate, very finely chopped
1/2 cup heavy cream
Bring cream just barely to a boil; pour over chopped chocolate and let sit for a minute. Use a rubber spatula to gently fold the mixture together until just emulsified; you don't want to stir in too much air. Can be refrigerated for up to 2 weeks.
2 responses to "cacao nib macarons with ganache"