peanut butter and honey ice cream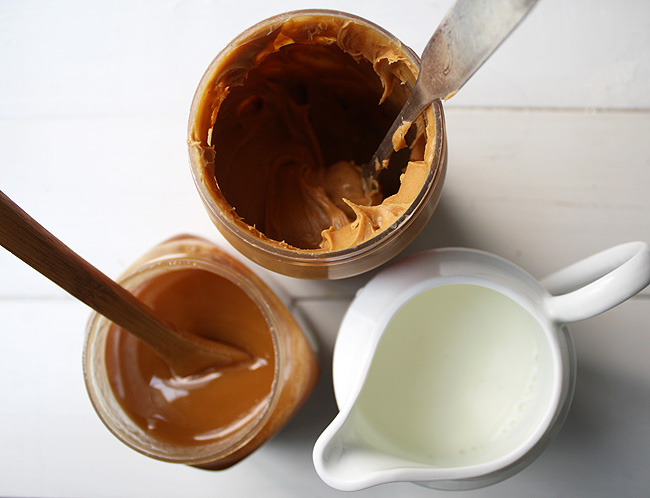 *interrupting the scheduled post of "Meatball" Subs to bring you this ice cream*
Three of my favorite ingredients have magical transformation powers. If you whirr them in a blender, then churn them in an ice-cream maker, you'll end up with the most peanut-buttery, creamy, scoop-able ice cream. Ever.
Danger: it's almost too easy to make.
(I sometimes–okay, lots of times–do shots of half and half out of those little containers they have at restaurants. I sometimes–okay, often–fill a spoon with half peanut butter/half raw honey. And eat it. Not exaggerating–definite favorites.)
you might like:
It all started with a simple recipe. 1 cup peanut butter 1 cup sugar 1 teaspoon baking powder 1 egg Stir. Bake. Eat. So easy, I had a pan in the oven in under 10 minutes. It's absolutely my f ...

The lovely Deb, of smittenkitchen.com, always posts great recipes but there are a couple that stand out in my mind; recipes that lured me in with just a picture, induced wild fits of drooling and spontaneous grocery store ...
Peanut Butter and Honey Ice Cream (from serious eats)
I omitted the salt and white sugar from the original. Used store-brand creamy peanut butter, and a mix of regular wildflower honey and a (thicker) raw organic honey. The original recipe suggests a darker, full-flavored honey like chestnut or wildflower, but not a very dark honey like buckwheat.
2 cups half and half
1 cup smooth peanut butter
1/2 cup honey
(salt, to taste)
Put all three ingredients in a blender, and mix on high for 30 seconds, until very smooth. Taste to see if you need to add a pinch of salt. Transfer blender container to refrigerator to chill for a few hours.
Pour mixture into your ice cream maker, and churn according to your mixer's instructions. Transfer to a freezer-safe container and freeze for at least 4 hours before serving.
3 responses to "peanut butter and honey ice cream"