holidaze!
December began in a beautiful way.
It continued, in a beautiful blur. I spent one fine Saturday afternoon selling my home-baked goods at a (beautiful, bustling, bountiful) market tucked away in the woods. A World Away.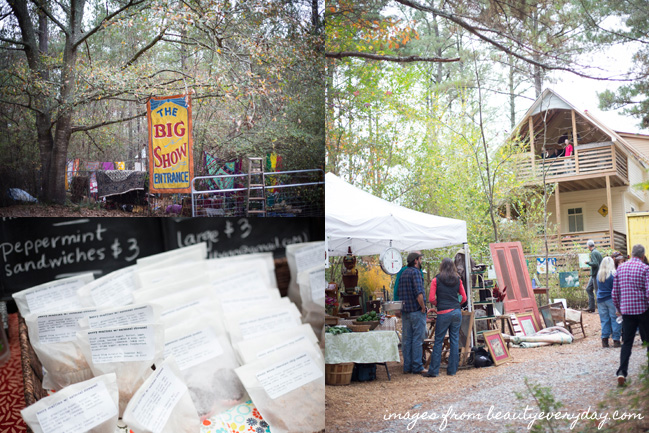 I was also commissioned to put together a little collection of holiday treats. (Sorry, non-local friends and family, your cookie boxes be more in the range of a New Year's/Valentine's/President's Day gift this season–as soon as my seester and I can get it together.)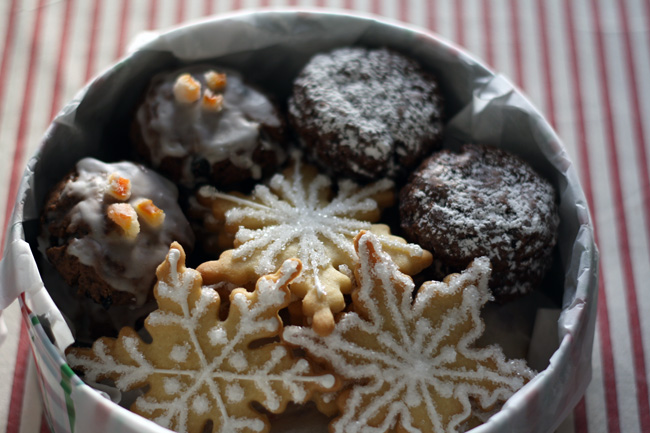 Spice Cookies from Ottolenghi.
World's Finest Double Chocolate Cookies (classic secret recipe–unless you twist my arm even just a little bit, then you'll get a recipe in grams that makes I-don't-even-know-how-many cookies. 50?  You'd be welcome? What I'm trying to say, is…the recipe needs a little work before its debut here.)
Sugar cookies with royal icing and coarse sugar (Cookies: 1 cup unsalted butter/1 cup granulated sugar/1 large egg/1 tsp baking powder/1 tsp vanilla/3 cups (12 ounces) all-purpose flour, plus more for rolling. Cream butter/sugar for 2 minutes. Scrape. Cream 1 more minute. Beat in egg and vanilla until well-combined. Sift together flour and baking powder. Add 1 cup at a time to butter mixture, mixing thoroughly. Divide into 2 pieces, wrap one, roll the other out on a floured surface to 1/8″ thick. Cut with a floured cookie cutter, bake cookies 6-8 minutes, or until edges begin to brown lightly. Dough can also be refrigerated up to 2 weeks, or frozen up to 2 months. Omit baking powder for a denser cookie. Source: Toba Garrett's "Creative Cookies".)
Cranberry-Almond Pound Cake (it was under the sugar cookies, I swear.) An excellent recipe using fresh cranberries and almond paste, from Bo Friberg's "The Professional Pastry Chef". I'll post the recipe next year (typical, huh?), though you can email me if you started salivating as soon as you heard the words "almond" and "paste" and need it STAT!
Gotta run and catch a snooze, but I'll be back armed with some wedding advice and recipes for our wedding cakes.
Sneak-peek tip #1: get hitched in December, and you'll get to take home your flower "arrangements" for Christmas decorations. Score!
Tip #2: definitely make 1,000 paper cranes; hung the right way, they end up looking suspiciously like garland :)
Wishing you a safe, warm, and merry Christmas!
(And-a-haaappy-new-yearrrrrrr!)