easy quiche with a hash brown crust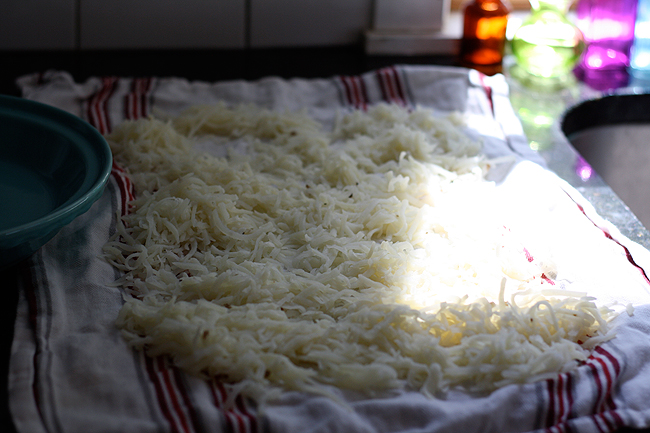 I've gotta tell you about this easy quiche that, now that I think about it, reminds me a lot of a Spanish Tortilla. And is equally as good eaten cold from the refrigerator the next day.
You'll need to grab a bag of Simply Potatoes hash browns at your grocer–located above the eggs, for your convenience (at least at our stores). Dump them out onto a towel and roll 'em up to wring out any excess water. Then toss with some oil and spices, press into a pie pan, and bake until crispy. Then you'll whisk up some eggs and milk and pour it over the potatoes along with your chosen fillings.
Bake the thing, et voila! Quiche! Tasty, tasty quiche. Baked in a flippin' toaster oven, no less.
I told you it was easy.
you might like:
Uh, it's cold. Not sure if anyone's mentioned that yet. Had you noticed? If for some insane reason you insist on going outside, might I suggest that you put on a hat? Then...wrap yourself in a sherpa blanket and have someon ...

Hello all! I've missed you! I've been thinking about you! I've been meaning to pop in to say hello, but I've been completely and utterly distracted. My crazy self accepted the title of 'pastry chef' at the bakery. Mostly I' ...
Hash Brown Quiche
makes one 9″ pie
I lowered the temps by 25˚ to bake in a convection toaster oven.
If you go heavier on the fillings, you might need to reduce the amount of eggs and milk–as a guideline, use 1/4 cup of milk per egg.
1 (20 ounce) package 'Simply Potatoes' shredded hash browns

1 tablespoon oil
seasonings of your choice (I used about 2 teaspoons mixed dried spices–oregano, parsley, basil, and dill–plus a pinch of salt and pepper)
1/2 a cup shredded cheese (sharp cheddar)
4 green onions, finely sliced
6 large eggs

1 1/2 cups milk (1 cup milk plus 1/2 a cup half-and-half)
Preheat oven to 425˚.
Roll the potatoes up in a kitchen towel and squeeze to remove excess moisture. Dump them into a 9″ pie pan and toss with oil and seasonings. Press firmly onto bottom and up sides of pan. Bake until light golden and starting to crisp, about 20 minutes. Set aside while you get your eggs and fillings ready.
Lower oven temp to 350˚.
Sprinkle cheese and onions (or other fillings of your choice) evenly over potatoes. Whisk together eggs and milk; pour over fillings. Bake until set and puffed in center, about 25-30 minutes.