deviled eggs
Dearest Readers of this Little Blog,
First and foremost, how have you been? Really! Seriously. I'm not just using that question as a set up to tell you all about how I've been doing. Although…
I'm good! Though, to be honest, if you asked me what I did just yesterday, my eyes would likely glaze over and go askance, my mouth dropping slightly open and emitting a dull "uhhhh" noise as I struggled to recall what exactly it was I did yesterday. That is to say, my days are a blur. What's that saying? The days are long but the years are short. Meaning, Felix is precious and sweet and beautiful and so much fun, but there are moments when the day seems endless, when I yearn for that next nap so I can recharge. Nap myself, get some work done, do the dishes, vacuum up those pesky black bits that are suddenly flaking off the office chair en masse just as the baby is learning to crawl and do that pincer thing. Instead I spend those 20, maybe 30, minutes staring blankly at the ceiling or cruising Facebook and/or looking at amusing pictures on Reddit.  Teething has been rough today.
But jeez, where have the last 8 months gone?
Right now I'm sitting in the living room using my laptop as Felix learns the fine art of independent play. He just learned to spring from tummy to sitting up, and from this delightful new vantage point he's making intense and joyous eye contact with a cubby full of cords. BRB.
I'm back!
Felix is 9 months old.
Mr. Baby had his first ocean encounter (he'd like you to know that sand is delicious!), and he's now springing from sitting to standing. He'll be walking any day now.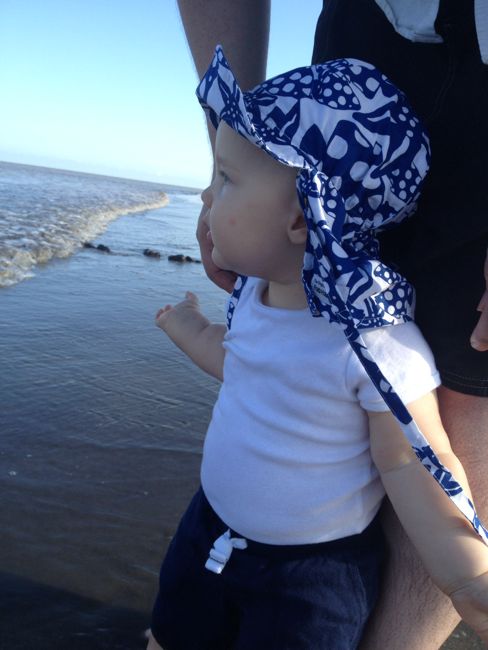 Our kitchen is a little dusty. Though yesterday I did bake some pretty delightful cheddar biscuits. The day before that, I had my first experience with a charcoal grill. Made a grilled veggie salad after one failed attempt at lighting the charcoals…gotta let them breeeeathe!
Before something shiny catches my eye, I should probably…
…oh, hi!
Felix is now 8 years old.
Ahahaha! Ha! Ha.
Kidding. His first birthday is about 5 weeks away!
I know.
Yikes.
My baby!
He's almost not a baby anymore!
The last weeks/months have found me engrossed in planning a baby shower for my sister. She's due with a baby boy in September, just 3 days after Felix's birthday. Cousins! I can't even (don't want to) imagine how much trouble they're going to get into together!
All that time spent in the kitchen frantically preparing for the shower resulted in (most importantly) a party that everyone seemed to enjoy, and rekindled a desire to be back in the kitchen a little more often.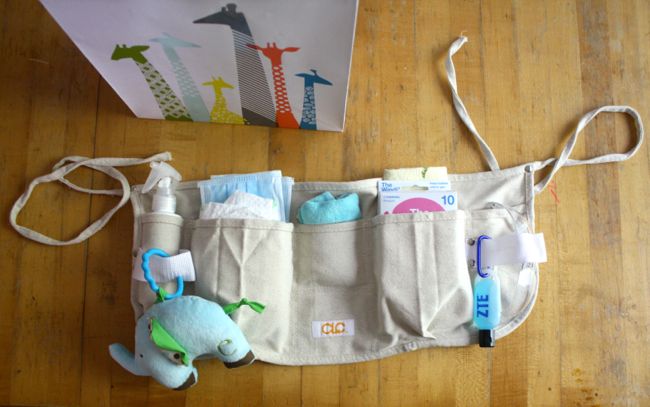 Diaper tool belt for the dad-to-be: diaper spray and cloth wipes, face masks, diapers, ointment, mini diaper changing pad, Windi, antibacterial hand goo, safety goggles, distraction :) It was a hit!
Last night I made these deviled eggs for a little gathering and they were gobbled up in no time, as tends to happen to deviled eggs at potlucks (/anywhere). These were on the shower menu as well, though I ended up outsourcing them to a local restaurant. They were good, but nothing beats a homemade deviled egg.
I was able to devil these eggs while Felix played on the kitchen floor. The eggs turned out pretty…my kitchen, however, looked like a bomb had gone off in it. C'est la vie; it's all about trade-offs!
Basil–mayo blended with a handful of fresh basil leaves, garnished with black salt
_____
Curried–curry powder to taste plus very finely minced red onion and celery
_____
Everything–sprinkled with toasted everything mix (poppy, sesame, salt, minced dried garlic, cumin and caraway seeds) and red onion
_____
Everything with smoked salmon (aka The Nancy)
_____
I'm still figuring out how to boil the perfect egg. I put a dozen in a pot with cold water, brought to a boil, turned off, covered, and let sit for 12 minutes before putting in ice water. They were a little over-cooked.
My base recipe was:
12 boiled eggs
1/2 cup homemade mayonnaise* (this included mustard, vinegar, salt, and pepper)
Say you want to make an assortment of 3 flavors. You'd take the yolks of 4 eggs, add 2 heaping tablespoons of mayo and mash it together with whatever flavorings you want. I used this. Or you could throw everything into a baggie and mash it up with your hands, then cut a corner off and pipe it into its white, eggy vessel.
*If you want to pasteurize the egg, cool the water you boiled the eggs in to 140°. Let the egg sit out at room temp while you do this (at least 15 minutes). Gently place the egg in the 140° water for 5 minutes. Alternatively, most grocery stores carry whole pasteurized eggs, for your convenience :)
One response to "deviled eggs"